Modern-day swimming pools are outfitted with some of the best technology today's market has to offer. Pool owners are drawn into the allure of pool remodeling and adding up-to-date amenities in their swimming pools, but often forget one of the most important components of their in-ground concrete pool – the plaster.
In a nutshell, your swimming pool plaster is what separates the concrete lying underneath and the water sitting in the actual infrastructure. Its importance is significant, not only because it ensures your swimming pool maintains its aesthetic value, but most importantly, it prevents the swimming pool water from leaking, which could eventually undermine the concrete below and mitigate the integrity of the in-ground pool. That said, a good plaster can protect your investment and will allow you to enjoy it longer than its expected lifespan.
If you're interested to know how you can maintain your swimming pool plaster through different means like pool resurfacing, here's a quick step-by-step guide to the ins and outs of swimming pool plastering.
Laying the Groundwork
Before we go into the specifics, let's first discuss what swimming pool plaster is, its anatomy, its basic composition, its varieties, its application, and its overall importance.
As we've covered above, pool plasters creates an air-tight barrier that separates the water and the concrete which not only maintains the integrity of the water, but also that of the structure holding it. Swimming pool plaster is made from a combination of hydraulic cement, sand, water, and a slew of special additives that give different pool plasters their own unique properties like varying strengths and different color tones. Some of the additives used in pool plaster include color pigments and quartz. Color pigments give your swimming pool plaster unique shades and undertones that complement a wide variety of swimming pool designs. Likewise, quartz can be included as an additive to provide your plaster with added strength while incorporating the elements of design as many quartzes come in different colors, providing pool owners the chance of having a durable plaster with a rich appearance to match.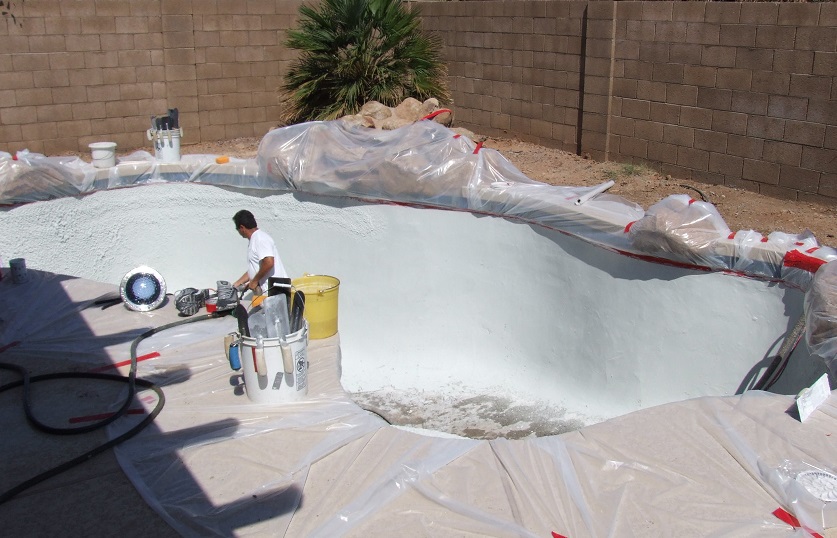 Because of how simple and rudimentary the anatomy of pool plaster is, its use and application in your in-ground pool aren't as difficult as rocket science. Nevertheless, it takes a skilled plasterer to finish a project in a timely manner with minimal to no error. Many companies offer  pool plastering service, pool resurfacing, and even swimming pool remodeling. The project entails having to chip out the old plaster and sand down rough edges. The mixed plaster solution is then applied from the bottom of the pool to the walls. For a seasoned professional, the application of plaster in a standard-sized pool is nothing more than a six to eight-hour job.
Pool plastering is important. Keeping it in good shape will keep both the water and the structure itself in good condition, allowing you to enjoy your property longer and saving you money from bigger pool projects in the future.
Here's why.
Periodically, swimming pool water is treated with chemicals like chlorine. Chlorine disinfects the water by eliminating algae and other microorganisms. It's also known to oxidize dirt and chloramines in your swimming pool water. However, chlorinated swimming pool water can be extremely potent. It can cause aesthetic issues like mineral and metal fallout as well as physical degradation that aggravates pool break down. As your pool ages, chlorinated water can make its way through the cracks and crevices and will start to accumulate in the areas underground. The chlorine in the water will cause rapid decay in the embedded metal bars as well as the walls of galvanized steel that hold the swimming pool structure together, which will cost you more expensive repair services in the future. Spending money for correcting controllable factors isn't exactly the best way to take care of your investment. So, make sure you always check the health of your pool plaster. Pool resurfacing is a small price to pay compared to replacing all the metal components in the pool.
Common Swimming Pool Plaster Problems
Detecting the problem is the first step to solving it. Not knowing what to look for will cause the most inconsequential of hiccups to a full-fledged complication. Here are some of the most common tell-tale signs of swimming pool plaster degradation and their possible causes.
1. Discoloration
One of the easiest signs to spot when you're suspecting pool plaster damage is discoloration. This can be caused by a myriad of reasons, like using incompatible additives during the time of pool plaster application and improper water chemical balance to name a few. Pool stains can be common in locations with hot weather as hot weather tends to promote algae development and most pool owners use chemicals to combat this problem. Improper chemical balance in the pool water will cause the plaster to weaken over time. Pools in Camarillo, a place of warm weather, may encounter stains and discolorations more often than pool locations with colder climates. Our clients who sign up for our Camarillo pool remodeling and Thousand Oaks pool remodeling services often report these issues.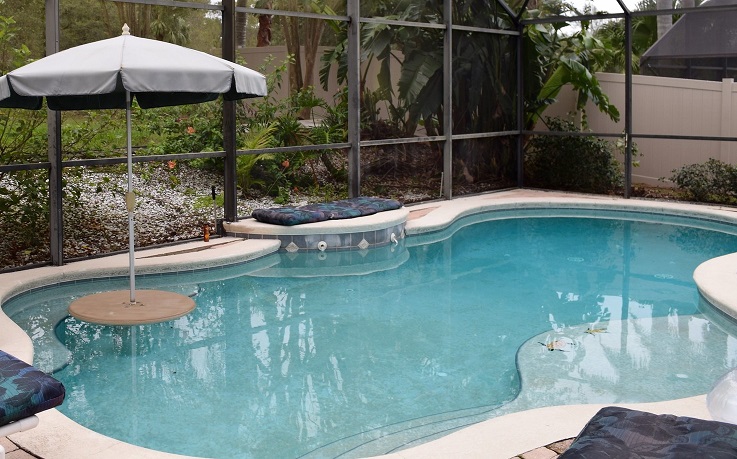 2. Coarse surfaces
Another indication that your swimming pool plaster may be experiencing issues is rough surfaces. While some surfaces like Pebble Tec may be rough and uneven in nature, the plaster itself can feel excessively rough to the touch where it can damage swimsuits and scar the skin.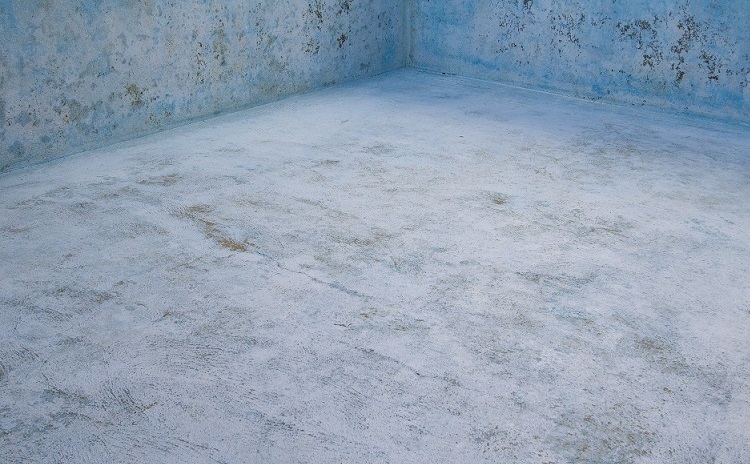 This is often caused by bad pool water chemistry when the pH level of the pool water creates calcium nodules and pitting.
Band-aid solutions like sanding and acid washing can reduce the roughness of the pool plaster but recurring coarseness will call for pool resurfacing. That's why we always advise our customers who sign up for our Van Nuys pool resurfacing solutions to maintain proper water chemistry.
3. Pool Structural Damages
Obvious structural damages, like cracks and ruptures in the pool plaster, are an indicative sign that your swimming pool needs to be checked by a professional. Structural damage manifestation may come in the form of superficial cracks or cracks that are skin deep and go way beyond the plaster. One of the most common causes of overall structural damage is the lack of proper planning during construction and is something we address during our projects like our Woodland Hills pool remodeling services.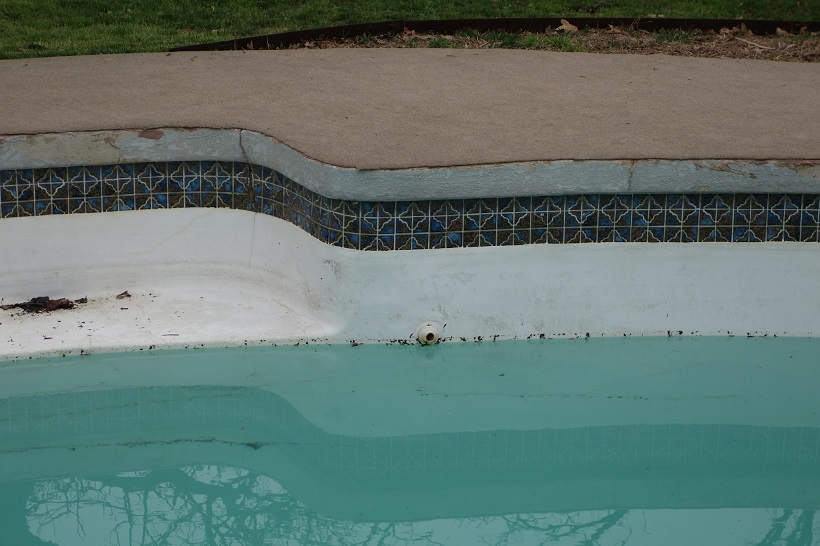 4. Pool Plaster Scaling
Pool plaster scales can be likened to the roughening of the pool plaster, but is somewhat superficial in nature. Like coarse swimming pool surfaces, scaling is commonly caused by improper swimming pool water chemistry, which results in the buildup of deposits of various minerals in the surface of the pool plaster. hence forming drips and mounds. Regular brushing of the swimming pool wall can help reduce the progression of plaster scaling – a piece of advice we often share with customers encountering these problems like our clients who took up our Reseda pool resurfacing solutions.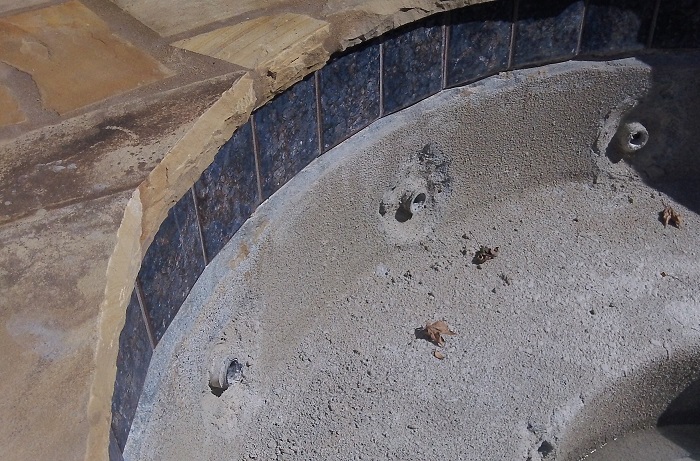 5. Pool Water Loss
Water loss or leakage is a common sign that the pool plaster is damaged. Water loss can be caused not only by evaporation, but can also be caused by hairline cracks on the surface of the swimming pool plaster. The pressure on the swimming pool can cause even the slightest of fissures to open up, causing the pool water to make its way into the concrete underneath. Water loss can be addressed by patching up leaks, but it's still best to apply a new plaster and repair the cracks as patching will not be a permanent solution. We help our clients who signed up for our Van Nuys pool plastering services with tips and tricks on how to avoid and detect issues relating to water loss.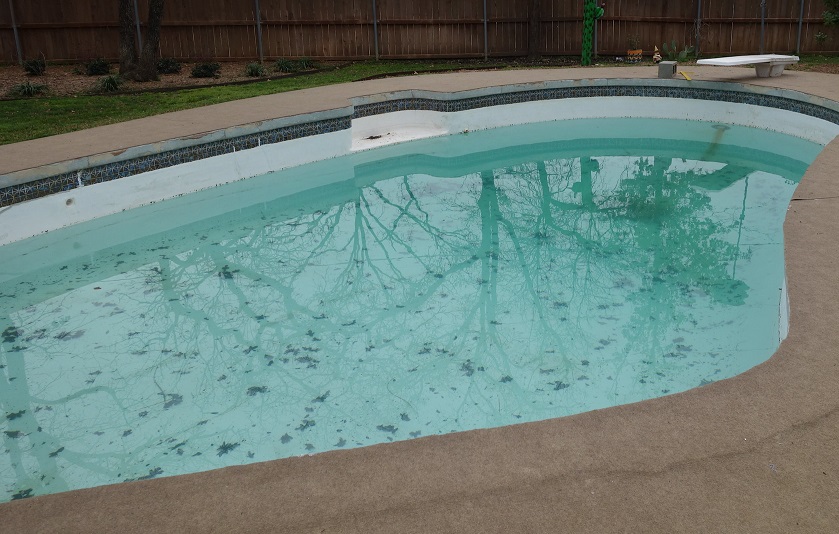 6. Spot Etching
Spot etchings are splotches and patterns that are manifested in the swimming pool plaster. Spot etching is considered more of an aesthetic defect than a structural damage. However, spot etching entails potential issues that can lead to any of the problems we've covered above. Spot etching can be addressed via minor remodeling services like that of our Chatsworth pool remodeling solutions.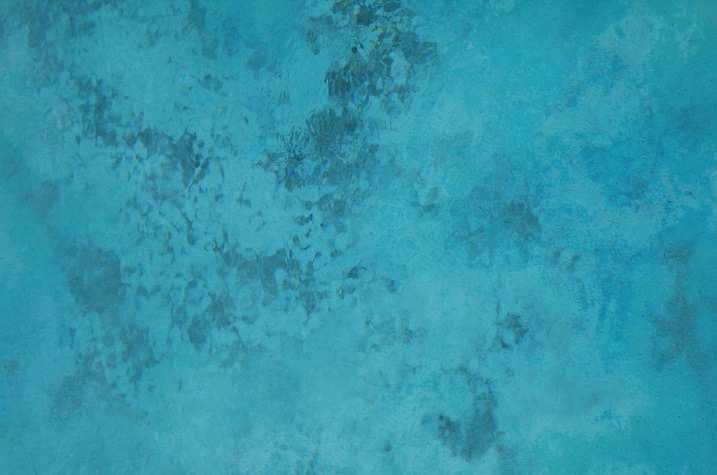 Pool Plaster Maintenance
Knowing what to look out for when checking for pool plaster damage is one thing, but preventing these issues from happening is another. This is why pool plaster maintenance is important. It allows you to reduce the instances and the probability of pool plaster damage saving you heaps in the long run.
Here are some of the best practices you should consider when maintaining your pool plaster.
1. Do not dry your pool without professional supervision.
Emptying your pool may prove to be a walk in the park. What looks like a simple and straightforward task entails significant factors. One of which is the drying effect sun and air have on your plaster that can consequently damage the plaster. Your swimming pool plaster is also subject to the effects of floating that may cause extensive damage when the swimming pool is drained.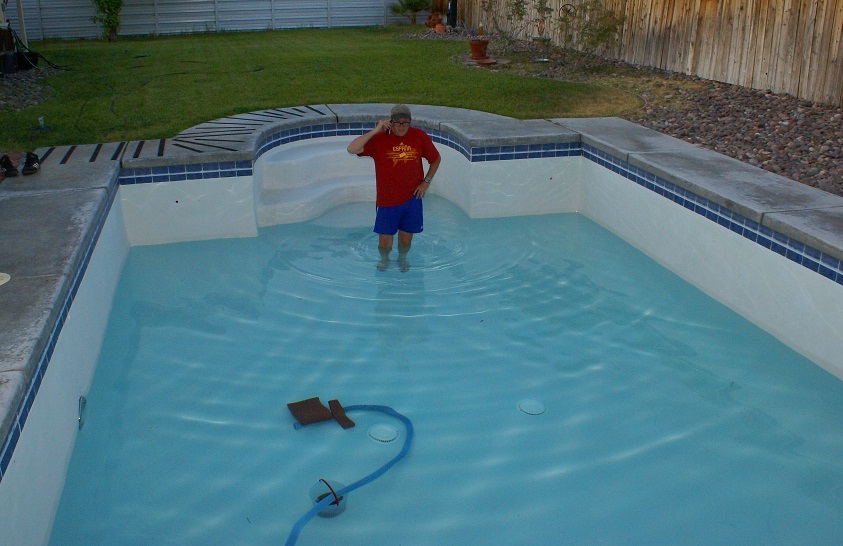 That said, it's best to let professionals drain your swimming pool to prevent these damages during this process. We help our customers who signed up for our Calabasas pool plastering and Canoga Park pool plastering with plaster maintenance by offering weekly pool services designed and tailored for newly plastered pools.
2. Have professionals work on chemical maintenance.
As we've mentioned above, chemical maintenance plays a vital part in preserving the lifespan of your swimming pool plaster. This applies not only to newly plastered pools but also to older swimming pools. Potent chemical solutions may weaken the plaster, and on the other hand, using a delicate chemical mixture may not be enough to sanitize the water. This is why it's best to have pool professionals work on the chemical balance of your pool water. Pool owners who avail of our Sherman Oaks pool plastering and Winnetka pool plastering services are always recommended to sign up for our weekly pool maintenance services as we offer professional pool water testing and chemical regulation.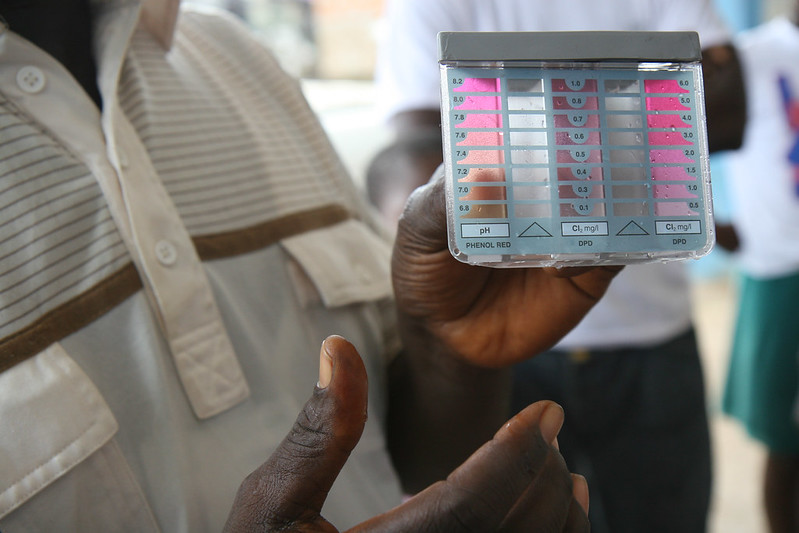 3. Brush the pool plaster regularly.
Brushing your plaster regularly can help you prevent minor issues like etching, discoloration, and scaling. A good pool professional is methodical in the approach of brushing swimming pool plaster. When the plaster is brushed, dirt is removed and oftentimes you want the dirt to end up at the deep end of the pool where it can later be vacuumed. One must be cautious enough not to create ripples that will cause backdrafts that will scatter the dirt pushing them to the shallow end instead of the deep end of the pool. While you can regularly brush the pool plaster, it's best to have a professional do it, or at the very least, ask for advice from a pool professional.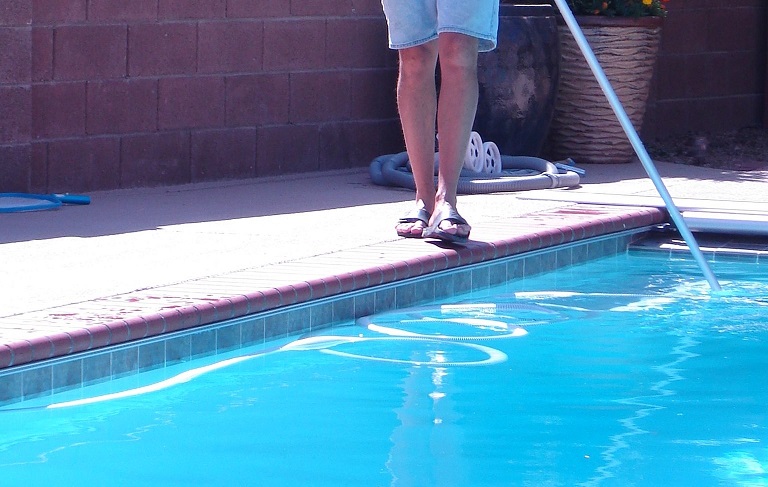 We tell our clients who signed up for our Hidden Hills pool remodeling solutions to regularly clean the pool or have a professional do it for them so they won't have to be bothered with regular maintenance.
Pool Plaster with Valley Pool Plaster
Valley Pool Plaster is committed to delivering high-quality pool plaster services with our end to end solutions like that of our Canoga Park pool plastering and Winnetka pool plastering services. We've been in the industry for years helping pool owners preserve their swimming pool through maintaining the pool plaster. As such, our Van Nuys pool resurfacing and Reseda pool resurfacing services are geared towards our customers' needs when resurfacing their private swimming pools. Likewise, you can trust us in world-class pool plaster solutions in various locations as Valley Pool Plaster offers Van Nuys pool plastering, Calabasas pool plastering, and Sherman Oaks pool plastering services allowing us to cover various areas, making us the number one choice in pool plaster application and maintenance.
That's not all – when your property is in need of a total makeover, you can trust in Valley Pool Plaster to help you out with premium remodeling solutions with our Camarillo pool remodeling, Woodland Hills pool remodeling, Chatsworth pool remodeling, Hidden Hills pool remodeling, and Thousand Oaks pool remodeling services.
Trust your swimming pool to the industry experts. Trust in Valley Pool Plaster.
Read more helpful articles: