Our Step by Step Pool Remodeling Process
How much does a pool remodel cost?
A: Although pool remodeling costs vary from project to project, the national average reported cost for remodeling a swimming pool is found to be around $8,855 (areas like southern California are higher than the average), where swimming pool owners spend anywhere from $5,500 on up. Depending on the scope of work, the cost can approach upwards of $100,000+ if you want to go all out on a full backyard remodel.
Having said that, there are several factors that affect the overall costs of remodeling your pool. These factors include the method used to remove the existing surface (chip out or hydro blast), if the pool contractor is bonded or insured as well as if the individuals working on the pool are accredited or licensed professionals. Another vital factor to consider is also the scope of work and the variety of raw materials that are to be used in the remodeling project, which may include but are not limited to any of the following: remodeling of the pool deck, installation of new pool equipment, and replacement of pool tile.
What is pool remodeling?
Pool remodeling is the process of renovating a swimming pool, which may involve changing the design, and in some cases, the overall shape and structure of the pool. Pool remodeling can involve anything from changing the patio furniture and adding water features to completely re-doing a pool, which often includes resurfacing and replastering. Swimming pool remodeling is one of the ways you can give an old and dilapidated pool a new lease on life.
Can you change the shape of an existing pool?
Yes, the shape and the overall structure of your pool can be changed when undertaking a pool remodeling project. That said, you can also change the depth of the pool and give it varying dimensions with a shallow end and a deeper end. While it's rare for a pool contractor to have a say in how the pool is to be redesigned and remodeled, it's always best to ask your pool professional for advice. Although you're only limited by your imagination when attempting to give your pool a new shape and form, keep in mind that the more drastic the changes are in terms of the pool's shape, size, and structure, the higher the costs of the project will tend to be.
How long does it take to remodel a pool?
The time it takes to complete a pool remodeling project heavily depends on how much work is required to complete the undertaking. Although at an average, a swimming pool remodeling project takes somewhere from 2 to 6 weeks. This involves remodeling projects like resurfacing, new pool plaster application, and replacement of pool coping and tiles. However, in projects where the pool needs to be dug out to either change the depth or the shape of the pool, the project could require a longer turnaround time. The same can be said when adding additional features like a spa. Basically the work is spread out over this amount of time, allowing us to coordinate with other jobs, procure materials needed for the project, and allowing each phase to set and cure.
Can you make an existing pool deeper?
Yes, the same way that a pool's shape can be changed, so can a pool's depth be modified. For instance, a pool can be made deeper to convert the pool into a diving pool, or made shallower to make the pool safer for a family living with children. That said, pool modification allows you to change the range of the pool to your liking.
A pool that looks beautifully designed in your backyard is only as enjoyable as the quality of its construction or remodeling. Valley Pool Plaster is committed to delivering a superior result, both in what you can see and in the work that you can't see. Our goal is to carry out a minimally intrusive remodeling process that can have you enjoying your pool in as little as 1-2 months.
Our focus areas in Los Angeles and Ventura Counties such as Newbury Park, Thousand Oaks, Westlake Village, Oak Park, Agoura, Calabasas, Malibu and Hidden Hills.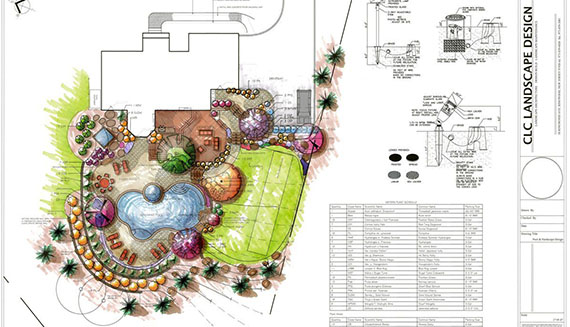 Pool Design and Permits
To ensure that your expectations are met, we will provide you with detailed renderings of your design. This also allows you to make revisions and improvements as necessary before construction begins. Once you've approved your design, we create detailed engineering drawings and apply for the necessary permits for the swimming pool replastering.
Pool Layout and Excavation
This is the first step in the construction of your pool. We will take the dimensions of your pool and lay it out in your backyard. This is an opportunity for you to see the layout of the size and shape in case any last minute changes need to be made. After the layout, the real work begins. Special equipment will be used to excavate the grass and soil from your yard to make room for your new pool. This step usually takes just one or two days and the soil that is removed can either be removed or simply transferred to another area of the yard, according to your preference.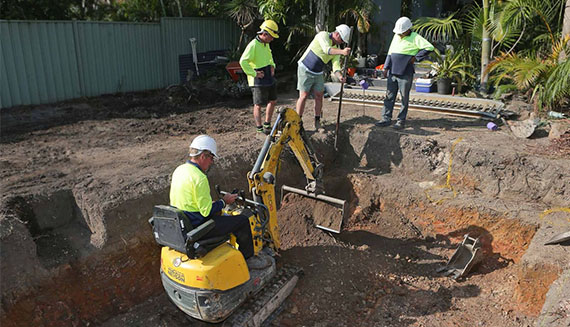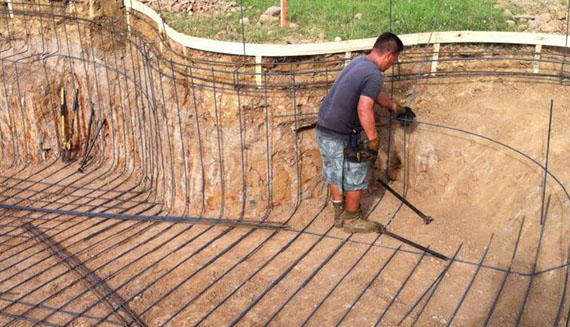 Pool Steel Framework
After the excavation step, a steel crew will begin constructing the skeleton for your pool. This forms the shape and structure. The steel rods are placed all along the sides and bottom of the pool to provide structural integrity, making your pool tough and durable.
Pool Plumbing, Electrical, and Equipment
Before adding cement, we first need to install all of the plumbing and electrical. We ensure that the plumbing is pressure tested and the electrical meets the necessary city and state codes. Correctly sized plumbing is essential to proper circulation and pump efficiency. While plumbing work is occurring, you will see the installation of utilities and the installation/ setting up of the equipment. This includes pumps, heaters, filters, and (optional) salt cells. Inspections will also be made by the swimming pool remodeling contractor to ensure everything is being completed correctly and the job is going smoothly.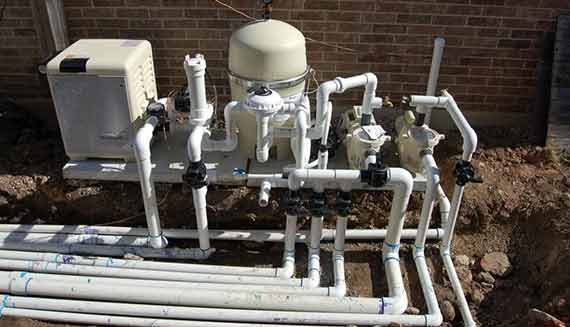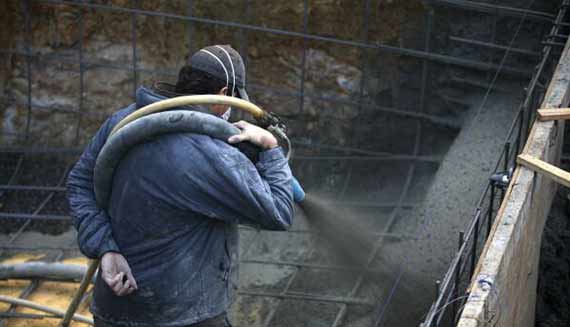 Gunite Application
An experienced team will apply the gunite (cement) to create the tough inner shell of your new pool. This concrete is a dry mix to which water is added onsite from a hose. The amount of water will be precisely controlled in order to guarantee the correct consistency. After this step, your pool will take approximately seven days to dry. During that time, it will need to be watered several times a day in order to prevent cracking while it dries.
Pool Tile and Coping
Now that all of the structure for the swimming pool remodeling has been formed, the decorative process can begin! Based on your taste and design, a wonderful selection is available, including natural stone tiles, slates, ceramics, and mosaics. Pool coping can be crafted from a variety of materials, such as natural stone, brick, or cement. After this step, your pool will be fairly close to completion!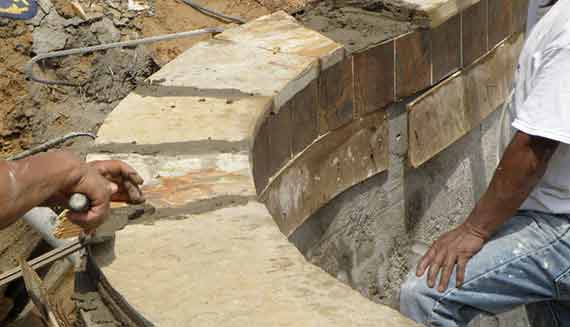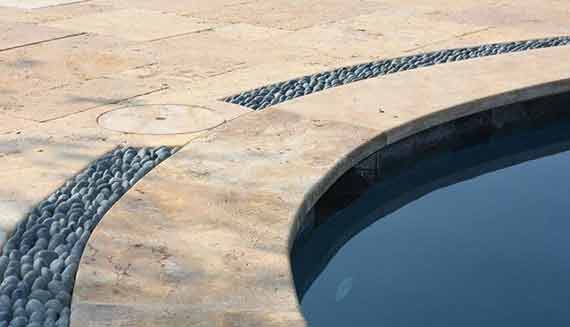 Pool Decking
Decking is the surface that surrounds the perimeter of your pool. A variety of surfaces based on your design can be used here, like custom stone or stamped concrete. During this step, any features included in your design, such as outdoor fireplaces, firepits, fountains, and kitchens will be installed.
Pool Plaster and Start-up
Applying the plaster is a complex process that must be done meticulously to ensure that your pool has a beautiful, long-lasting finish. After plaster is completely applied, the pool is filled with water. Depending on how large your pool is, filling with water usually takes a day or two. In order to eliminate plaster dust, it will need to be brushed at least once a day. Once the material has cured, a technician can perform a "start-up," which involves adjusting the chemicals in your new pool.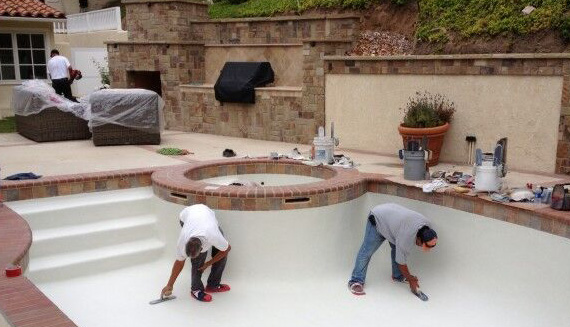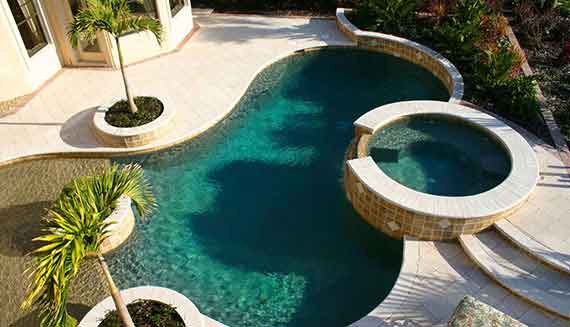 Finished Project
Your swimming pool remodel is complete! Please let us know if there's anything you feel we've missed or anything you still need. Good communication is our highest priority, so that you feel satisfied and excited about your new pool.
Everything You Need To Know About Pool Remodeling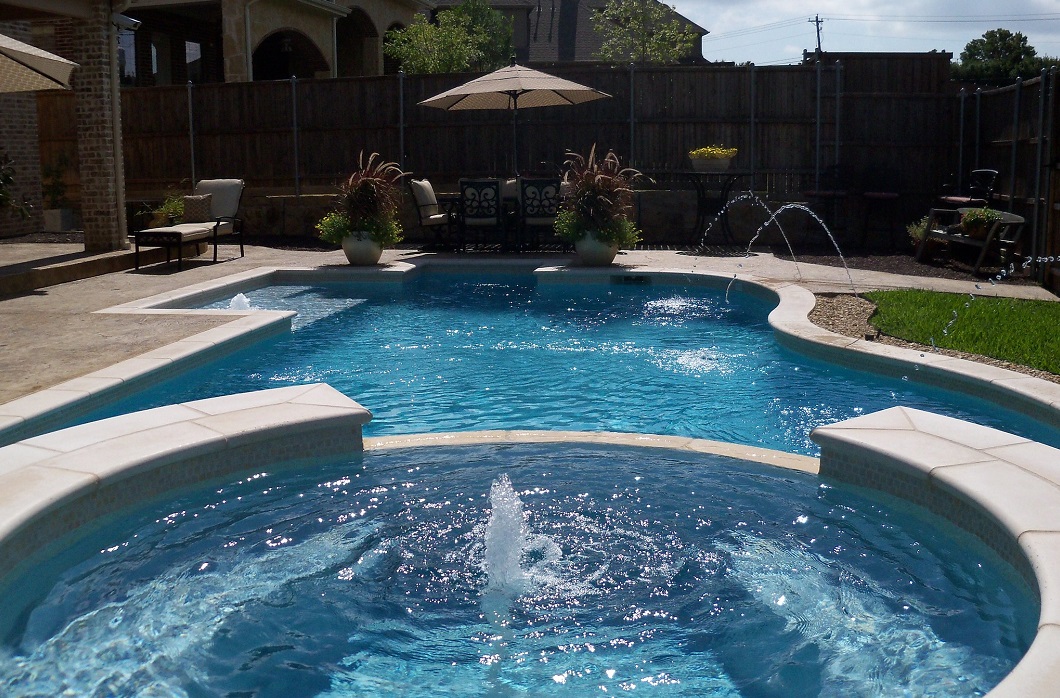 Don't you hate that old pool sometimes?
We understand that it's been a part of your life and beautiful memories have been created by its side. In fact, sometimes it feels that the pool is an indelible part of the household.
And that must become unbearable, to have to look at that same body of water every day. To bathe in the same watering hole that was once the center of attention, but now seems just uninviting.
After all, our tastes and preferences change over time. And what was once considered the marvel of modernity is now but a relic of the past.
Yet, for some reason, you can't seem to take that final step and go for that overhaul.
Well, we're here to provide just that nudge needed to get the job done.
Contrary to popular belief, pool remodeling service is one of the most cost-effective and essential steps that can be taken to ensure that a home remains safe and secure. And that the pool occupies a place of pride.
In this handy guide, we are going to discuss all that is needed in order to help remodel that boring pool and transform it into the limelight of the neighborhood.
When To Remodel your Pool
Pools are usually remodeled according to the tastes of the owners. Nevertheless, it's better to have a set of signs that can guide homeowners in making the decision. To help with that, here are a few valid indications that can be followed to understand whether a pool needs to be remodeled or not.
1. There Are A Large Number Of Cracks
An unsightly number of cracks is one of the main symptoms of a pool that needs remodeling. These are signs of damage that should never be ignored. Depending on the level of damage, the job can require anything from cosmetic repairs to a complete overhaul.
For best results, however, it's prudent to call in an expert who can evaluate the pool with a trained eye. The professional opinion can help to decide the next course of action.
2. The Pool Has Gone Out Of Style
Our preferences change over time, and a pool might no longer look as appealing as it did ten years ago. If that is the case, then it needs to be remodeled right away. After all, it must be better than the neighbor's, right?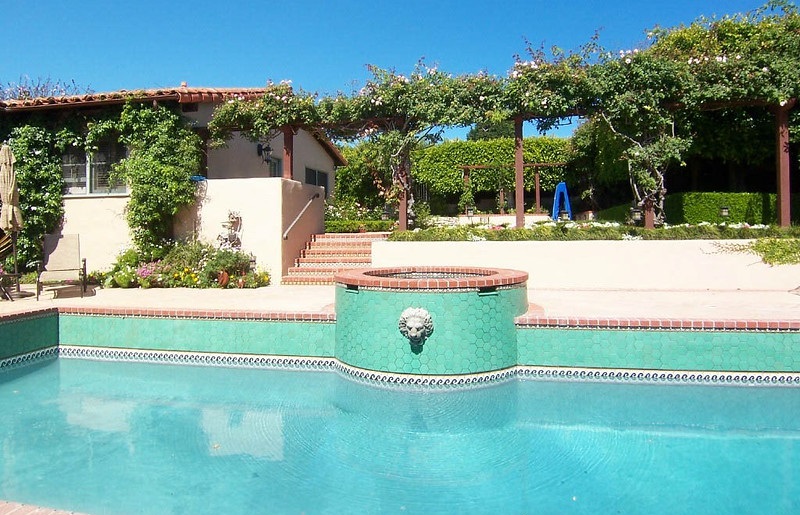 Houses often come with pools, and this means that the owners have no say in the matter of choosing the form and function of the pool. If that is the case, then remodeling can be considered a viable option.
Whatever the reason, once a pool goes out of style, it should be remodeled to keep up with the times.
3. Lack Of Pool Safety
Older pools lack many of the safety parameters that modern pool designs follow. So if you can't really remember when the pool was installed, then it must be checked once by the experts. Doing so would help ensure that your pool is following all the essential safety guidelines.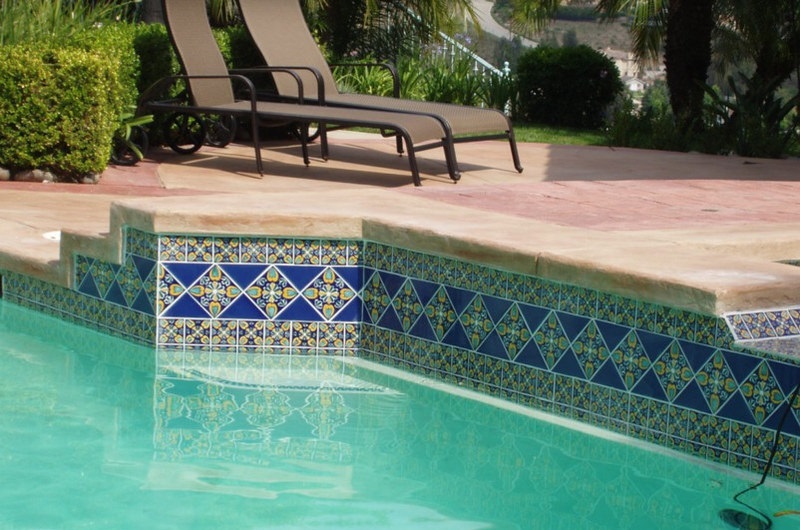 This is especially important if there are kids at home. A pool remodeling service can help to incorporate the essential safety features that are a must for any household.
4. Energy Inefficiency
An old, out-of-date pool cannot be as energy-efficient and economical as a pool with all the modern bells-and-whistles. Remodeling a pool can be the perfect opportunity to make it shine bright in the energy efficiency corner. And even though it might cost a tidy sum of money upfront, in the long run, it will end up saving much more in terms of power bills.
5. Excessive Spending On Pool Repairs
When you lose more money in repairs than was actually needed to install the pool, then it's time to take a step back and think.
The excessive need for repairs is a clear indication that the pool has reached that critical age when it can no longer function without a significant overhaul. At this point, it should be remodeled without delay.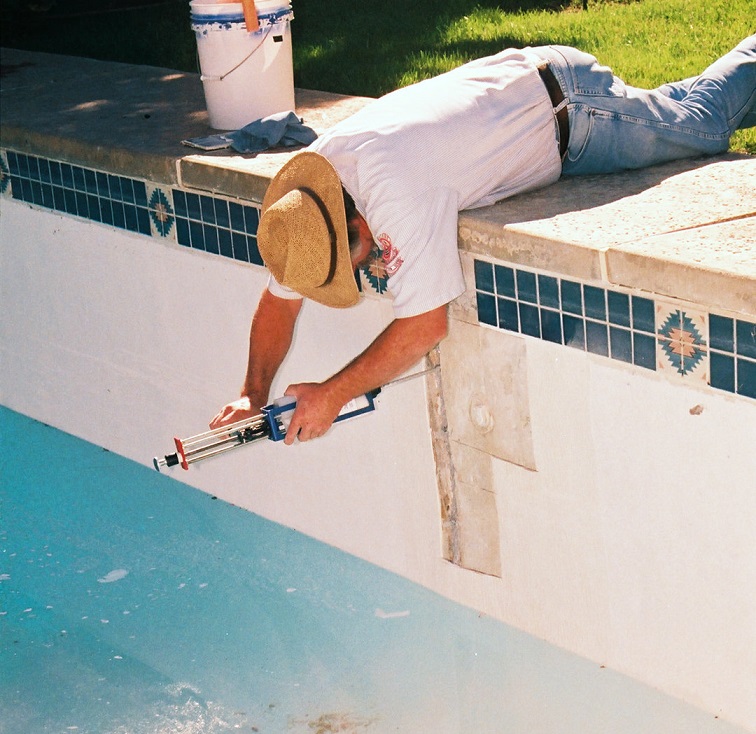 Once you know what to look for, it becomes easy to determine whether the pool needs to be remodeled or not. If modernization is indeed necessary, then professional pool experts should be called in to get the job done. This not only saves time and money, but also eliminates the need for unwarranted hassles.
As everything is done by the pool remodeling agency, the owner doesn't have to worry about a thing.
With that out of the way, now it's time to get acquainted with the steps that need to be taken to remodel a pool.
Steps of Remodeling a Pool
1. Draining The Pool: The First Step
The first step to remodeling a pool is to drain it of all the water. This is best done using a submersible pump that is guaranteed to drain every last drop from the pool, leaving it dry and ready to work on.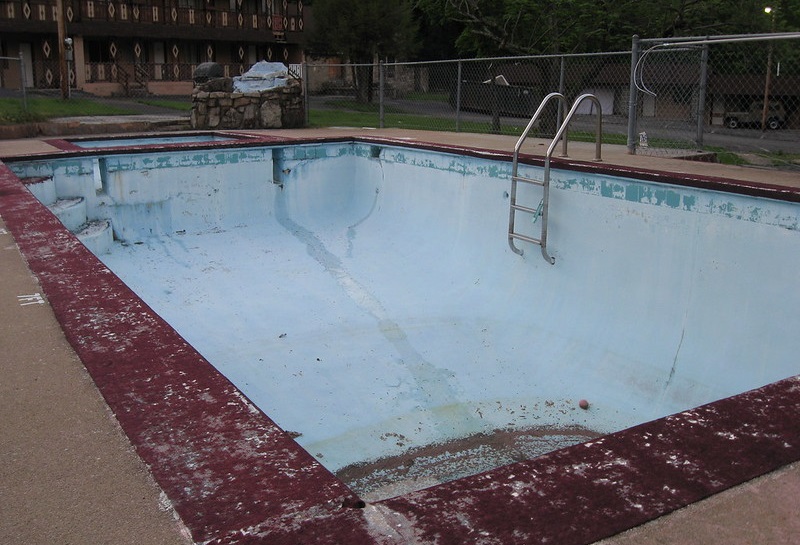 Depending on the size of the pool, it can take several hours for it to be empty. Once the remodeling professionals complete this successfully, then it's time to move onto the next step.
2. Chipping The Pool Surface
In this step, the experts will begin to chip the old layer of pool plaster from the pool walls. Be warned; this step is going to involve a lot of loud noises, so if required, make sure that your neighbors don't have a problem with it.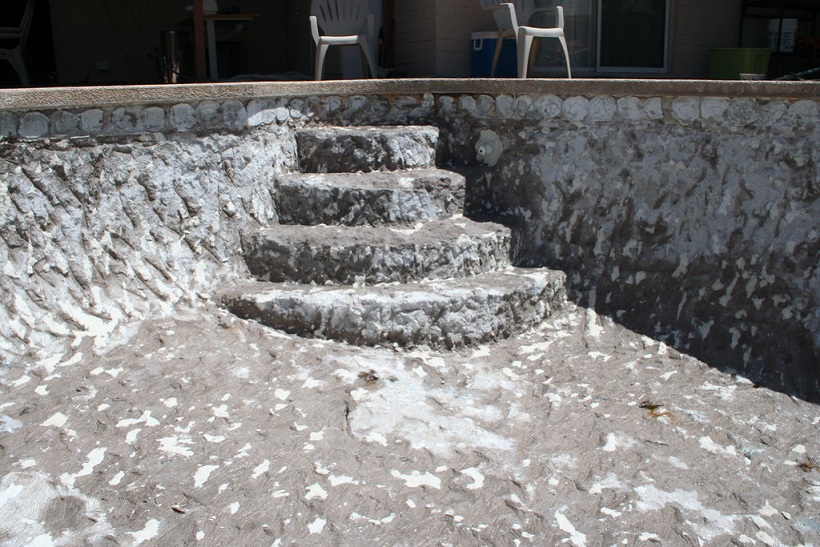 The time taken to chip and prime a pool is again dependent on its dimensions. Keep in mind that this step is going to generate a lot of waste, so make sure to get everything cleaned up afterward.
3. Choosing The Pool Style
Now comes the fun part: deciding exactly how the pool is to be remodeled. This can vary widely based on individual preferences. One may choose to go with paint, tiles or any other form of decoration that they think would be most suitable for their pool.
This is the step that requires the greatest creativity, and often the right contractor can work wonders when the owners chip in their suggestions. The choice, of course, is entirely dependent on the aesthetic preferences of the pool owners, and costs can vary widely based on the number of embellishments used.
4. Applying The Pool Surface
This essentially means to apply the plaster finish or to do a pool resurface. The ingredients of the surface finish are mixed in the required proportions and then applied thoroughly to all surfaces of the pool.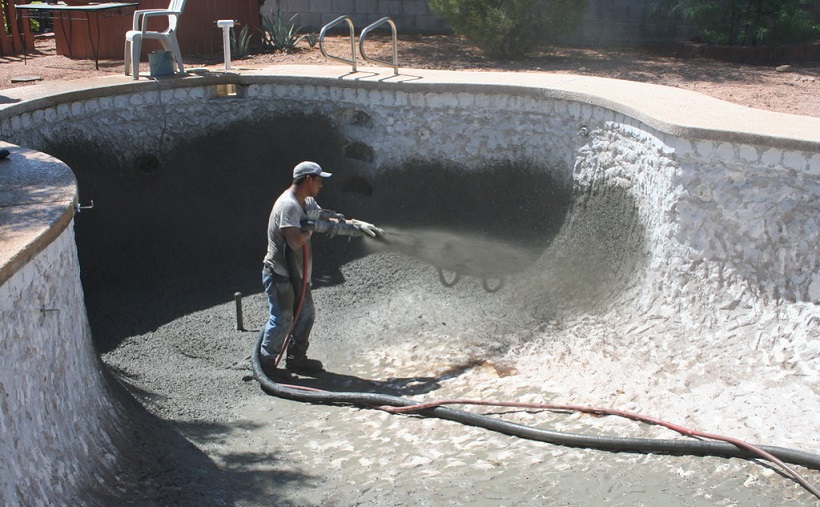 Once done, the pool plastering service experts are going to use hand trowels to make the surface smooth and even. Doing so can take between 4 to 6 hours of time; as usual, this varies with the pool size.
5. Pool Acid Wash
The plastering should be followed by an acid wash that ensures the surfaces are free of any grains and defects. This is a step that needs to be carried out under expert supervision, and needs to be managed carefully.
6. Pool Water Addition
So, all steps completed?
Now it's time to refill the pool with water. This is a step that the owner should be present to supervise. One of the factors to be kept in mind is to ensure that the water flow is not interrupted or stopped before the entire pool is filled up. Otherwise, waterlines can form in the interior of the pool.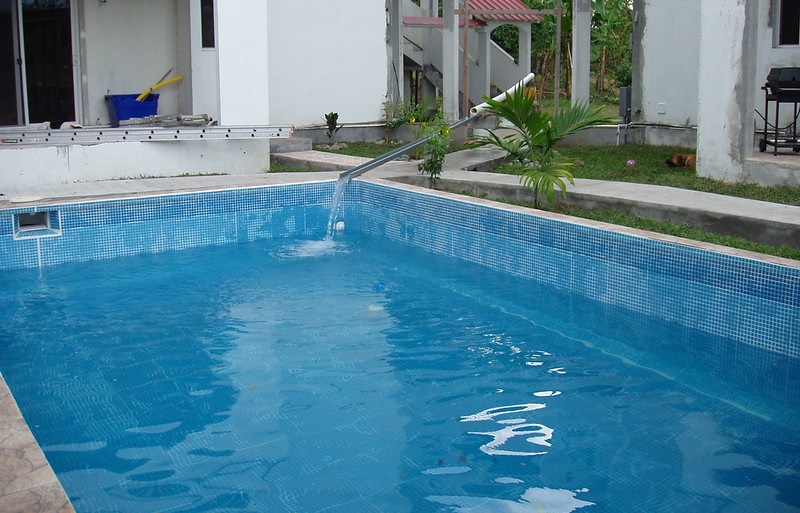 The best route to take is to slow down the flow of water to a level where it can be easily controlled. The dimensions of the pool, along with the pressure in the water lines, will determine the time it takes to complete this process.
7. Post-Water Startup
This process actually depends on whether the pool has a plaster or pebble coating. The process for both is the same, the only difference being that plaster pools takes more time to be completed, commonly to the tune of a few days.
This happens because plaster is more sensitive and requires the water's pH level to remain in an acidic state for a longer period than what pebble based pools usually require.
And that's it! Your pool has been remodeled successfully according to your preferences.
Conclusion
So, what do you think? Is your pool in need of a remodeling job? If yes, then don't hesitate to call Valley Pool Plaster. Our experts are versed in multiple styles and facets of pool remodeling.
Working with us guarantees the best quality service that money can buy; what's more, our experts take care of every aspect of the work to be done. This ensures that the owner is not bothered with any unnecessary hassles.
So don't hesitate! Just pick up that phone and give us a call. And we'll be there to take care of it.