Swimming pools have always been considered a practical luxury by many homeowners in the States. That's why many families spend considerable time and money in pool remodeling, to keep their backyard pools maintained and updated. And like any other industry, swimming pools have trends that come and go. We, at Valley Pool Plaster, have seen our fair share of swimming pools for the past decade and here's our prediction of the best pool designs for 2021.
Natural Landscaping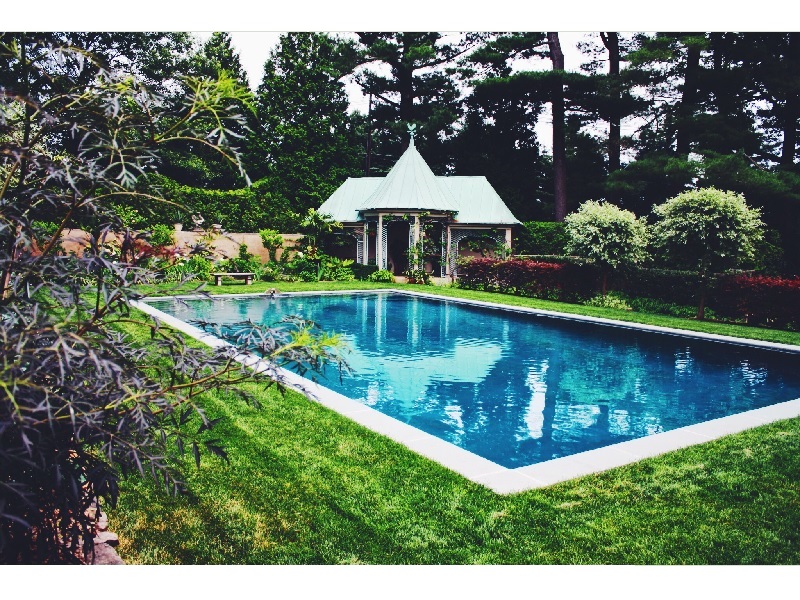 Since the most recent pandemic, the number of individuals who bought plants to their homes nearly tripled and the prices of common, uncommon, and rare houseplants began soaring over the roof. That's because plants don't just liven up your homes, they also have air purifying properties. And if there's anything COVID-19 taught us, that is health is wealth. It's not going to be a surprise to see this trend carry over from people's houses to their pools. A lot of homeowners have dedicated a part of their homes to house their plant collections and green houses beside their backyard pools would seem like a good idea. That said, you will most likely see a majority of residential pools with natural landscaping. There'll be a lot of trees, bushes, and natural plant life paired with decorative stones. Pool pebbles of various sizes and textures will be more of an in-demand commodity as they work well with natural landscapes. Not only are pool pebbles durable pool interiors, but they also complement the natural landscaping aesthetically. Speaking of which, decks lined with natural stones and hardwood will also be a common sight for most backyards.
Other structures and pool features that would look well in this set up are waterfalls and even fire pits.Rustic pool and patio furniture will also blend in perfectly with a natural landscape. If you really want to take your natural pool set up to the next level, you can add a small pond into your backyard if the space allows. Speaking of which…
Cocktail Pools and Spools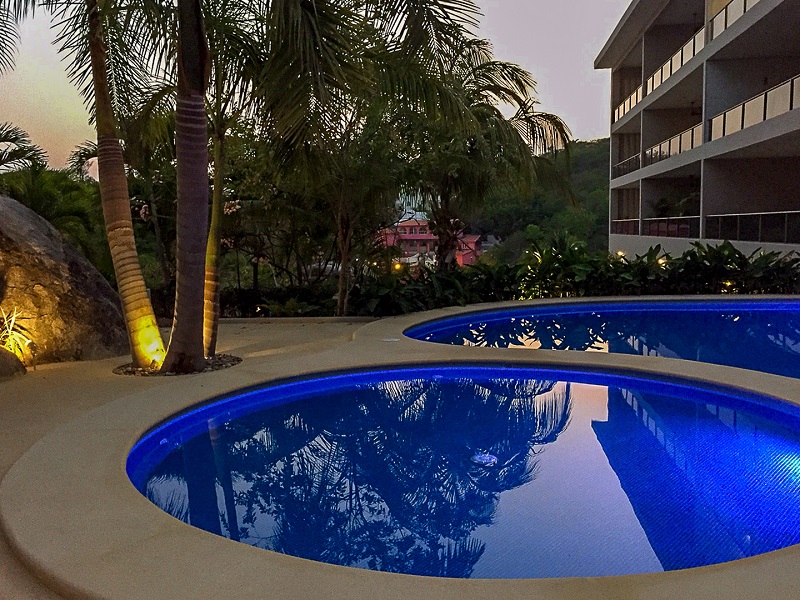 Typically found on residential houses with small spaces, cocktail pools, or compact pools are miniature pools that are ideal for quick and short dips. Because a lot of public pools have been closed down due to the pandemic, there has been a surge of pool construction requests this year – even for homes with small backyards. Compared to standard-sized swimming pools, cocktail pools are affordable. Because they're smaller, the costs of having one built in your backyard are significantly cheaper compared to a larger one. In terms of operational costs, cocktail pools are also on the lighter side.
Then there are spools, a combination of a spa and a pool. Like cocktail pools, spools are also small. However, spools offer more than cocktail pools because they're typically outfitted with features you'll find in a spa like water jets and heaters. They can be used for recreational purposes where you can rest and relax, but can also be used for therapeutic activities.
Both cocktail pools and spools will usually measure around 12 to 14 feet long and wide and will typically be around 4 to 5 feet deep. They can be had as an above-ground pool or in-ground pool with varying designs and layouts. You can even combine the aforementioned natural landscaping with a cocktail pool if you have limited space. One of the most popular trends in small pools is the use of rolling decks. Basically, these are pool covers that also double as pool decks. You can set up pool furniture on the rolling pool and use it as an additional space when the pool is not in use. Some pool owners even have half of the pool covered with half of the rolling cover used as a pool deck.
Rain Descents and Water Curtains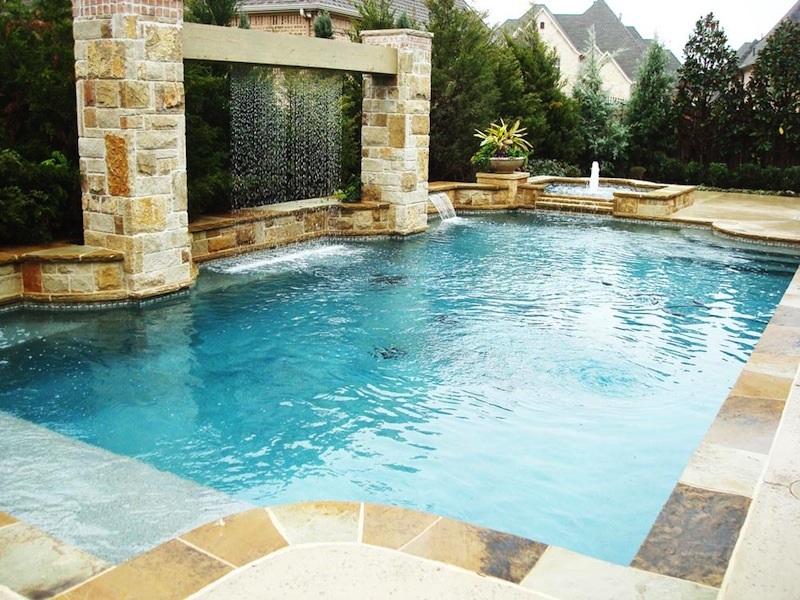 Another trend we see happening in 2021 are rain descents and water curtains. Many urban landscape professionals and interior decorators use these structures in different ways as an aesthetic feature. They will go well with modern homes with likewise modern swimming pools built in the backyard. Apart from being an acceptable water feature, rain descents and water curtains are considered works of art and have proved to be functional in adding beauty and dimensions to an outdoor space. You can use these water curtains as dividers to separate the bar from the pool or as a water feature where swimmers can give themselves a quick shower before entering and after leaving the water.
What's great about them is that they can blend well with different styles of swimming pools. Whether you have a pool inspired by the classic Grecian and Roman baths or one that looks like a pool that belongs to a resort, rain descents and water curtains will never look out of place. In fact, recent trends have seen rain descents do more than just aesthetic appeal. It offers the same soothing effect as a shishi odoshi, a common water feature found on Japanese gardens known for its calming and soothing effects. That said, we can see many homeowners jumping into this trend because not only does this make their backyards beautiful, but it also makes them a place of peace and Zen.
Acrylic Walls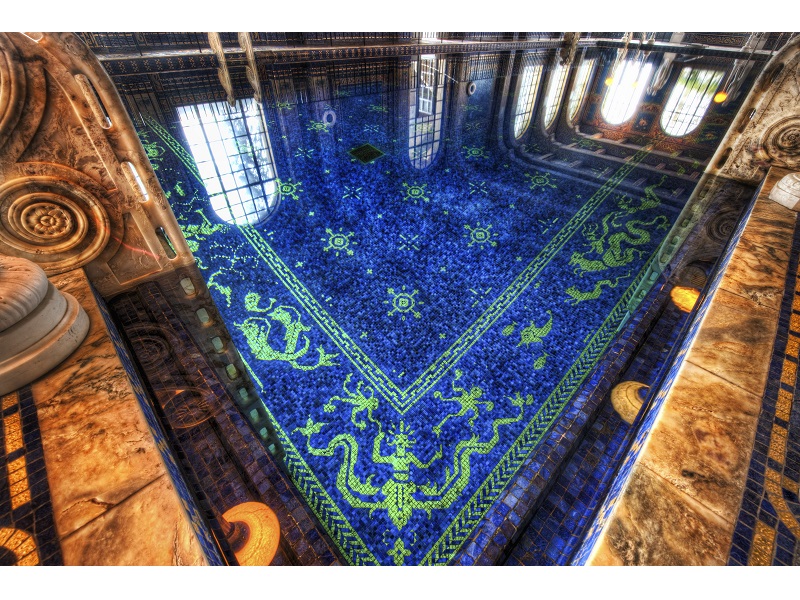 We've seen a lot of pools that use acrylic walls in the past, but we expect this trend to be more popular in 2021. Acrylic walls offer benefits that are both practical and aesthetic, they are easy to build, and under the right conditions, will last long. Adding an acrylic wall to your pool adds an element of surrealism making it ideal for architectural pools built alongside houses with clean and beautiful architectural design. Acrylic is versatile and can therefore be used for both indoor and outdoor pools and can also be built on both above-ground and in-ground swimming pools.
Under the hands of a skilled pool designer, acrylic walls can be more than a modern amenity. It can be an elegant upgrade that gives a dynamic and striking aesthetic appeal. It's easy to maintain compared to other pool interior finishes like plaster, pebble, or tile. Its smooth surface prevents dirt and algae from latching on its surface. And while you can definitely have a pool with walls all made from acrylic, they're often used to highlight one panel of your pool.
Lap Pools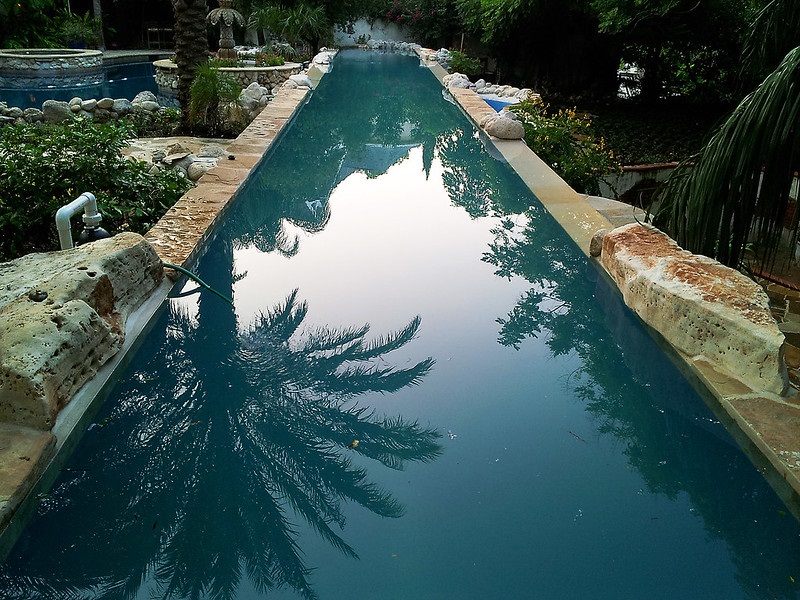 Lap pools will also see a revival in 2021 with many homeowners wanting to repurpose their pools into athletic centers where they can run a few laps here and there. The good thing about lap pools is that they don't always have to be built from scratch. Many homeowners who have standard-sized swimming pools can turn them into lap pools through pool remodeling. Lap pools are typically long and shallow allowing swimmers to swim in laps conveniently. They're not suited for diving, but they can definitely be used for things other than doing a few laps. Because they're usually built at 3 to 4 feet deep, they offer the perfect depth for casual swimming when you invite friends or family over making it both a place to gather around during parties and celebrations.
Like the aforementioned spools and cocktail pools, they're also easy to manage and maintain with low operational costs they make for an appealing pool for many homeowners.
Saltwater Pools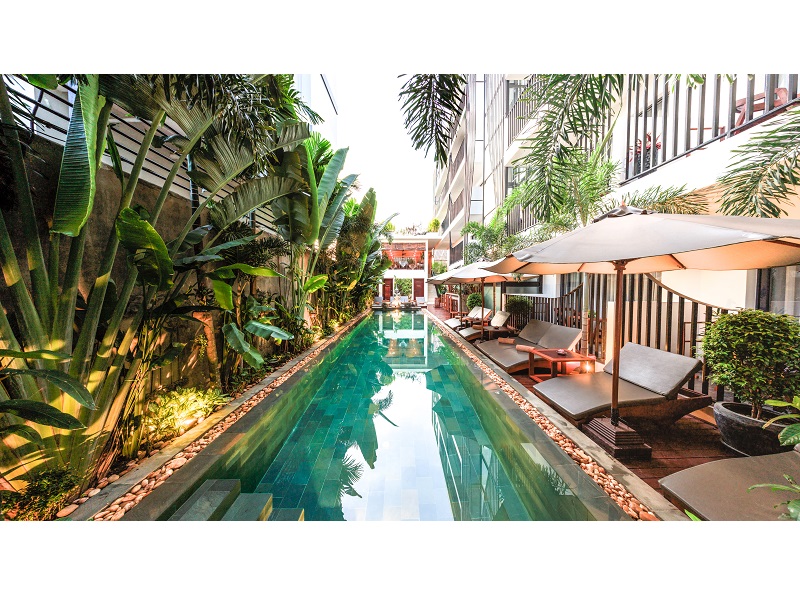 This is more technological than structural. Saltwater pools are designed with saltwater generators that produce chlorine using dissolved salt in the water. The reason why we believe it's going to be more popular in 2021 is because of the beneficial features it has to offer. First, homes with pools outfitted with saltwater generators do not require the homeowners to store hazardous chemicals. Instead of exposing themselves to large amounts of these harmful substances, saltwater pools use salt that is later converted to chlorine. Next, they produce only the right levels of chlorine to sanitize the pool instead of the owners dumping chlorine into the pool themselves. These saltwater generators can be configured by pool professionals to keep the chlorine levels consistent. Lastly, using a saltwater generator ensures that the pool water will not have large amounts of sanitizers. In some cases, especially with traditionally chlorinated swimming pools, the water can get too harsh and cause the swimmer's eyes to turn red. It can also cause skin irritation and may weaken and even stain swimsuits.
And there we have it, the best pool designs and trends for 2021. We hope that you can find your inspiration to build or remodel your pool for the coming year. For professional quality swimming pool services, make sure to contact us at Valley Pool Plaster. We're a company that's dedicated to delivering the best swimming pool services from pool resurfacing to pool decking; we've got you covered. And if you find that you want any of the aforementioned design elements added into your residential pool, don't hesitate to reach out to us and we'll be more than happy to help you remodel your swimming pool.