Shallowing the Pool in Westlake Village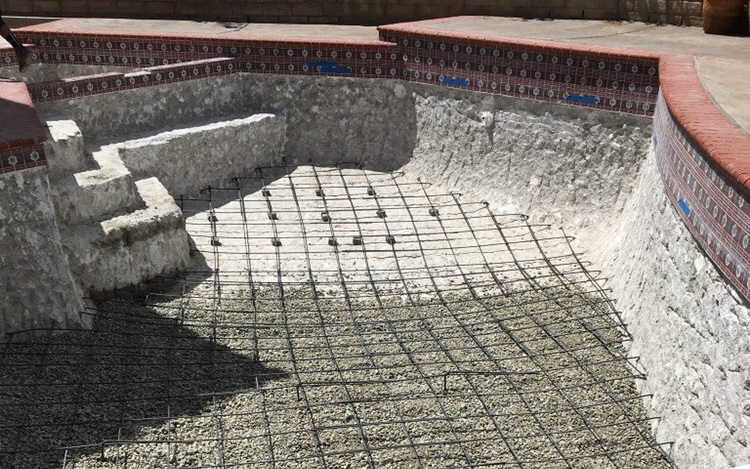 Services:
Custom Design, Plumbing Services, Pool Plastering, Pool Remodeling & Renovation
Project Duration: 1-2 months
Shallowing the Pool in Westlake Village
Valley Pool Plaster offers the best pool remodeling in Westlake Village. In this project, the owner wanted to repurpose the pool for both leisure and therapy. The project took one to two months, which involved pool plumbing, as well as pool resurfacing, with the use of mini pebble.
Benefits of Changing Your Pool's Depth
Planning for a pool remodel? Here are a few reasons why you should consider changing your pool's depth in your next renovation project.
Increased functionality
Reduced expenses
Easier maintenance
Let's go by each benefit.
A pool's depth can be changed for many reasons, in this case, the owner wanted to increase the pool's shallowness and use it for water therapy. It's not uncommon for many pool owners to use their pools for other purposes. Water therapy requires a shallow pool used for low-impact exercise programs designed for gentle treatment of various physical conditions. This kind of physical therapy is ideal for patients whose conditions restrict them from normal exercises. Other pools may be shallowed for water activities like pool volleyball and pool basketball. These modifications are geared towards fun family activities where you can splash around the pool without having to worry about treading the deep end.
Shallowing pools can also help save you money. Why? By shallowing the pool, you're basically decreasing the overall water volume it can hold. But how can a lower water volume level help you reduce your pool expenses? Well, a pool with a lower water volume can help you reduce your monthly chemical expenses. You'll have to buy fewer solutions because your pool requires fewer chemicals for sanitation and water treatment. This means that if you use traditional chemical solutions to keep your pool water clean, you can save up by cutting back on buying powders, tablets, and liquid agents. A pool with smaller water volume also requires a little less work from your filters and pumps. This helps you extend the life of your pool equipment as they won't need to work as hard as when running a pool with higher water volumes. You can also save money on electricity bills especially when using variable speed pumps.
Pool maintenance is also made easier with a shallowed pool because it will reduce the surface area you need to cover. The walls aren't as deep as they are and you can even carry out weekly cleanings on your own if you want to.
Shallowing pools can help save you money, make cleaning and maintenance easier, and give your pool a new purpose.
Valley Pool Plaster Best in Pool Remodeling
Here at Valley Pool Plaster, we take pool remodeling seriously. Our pool remodeling and renovation services are carried out by expert professionals who are licensed, bonded, and ensures. We make sure that every undertaking is done with the utmost level of proficiency and professionalism and is what we strive for in every project we do. When you go with Valley Pool Plaster, you can be sure that your pool is in the hands of Westlake Village's finest.
Learn more about our pool remodeling in Westlake Village.