Remodel with Baja Step in Northridge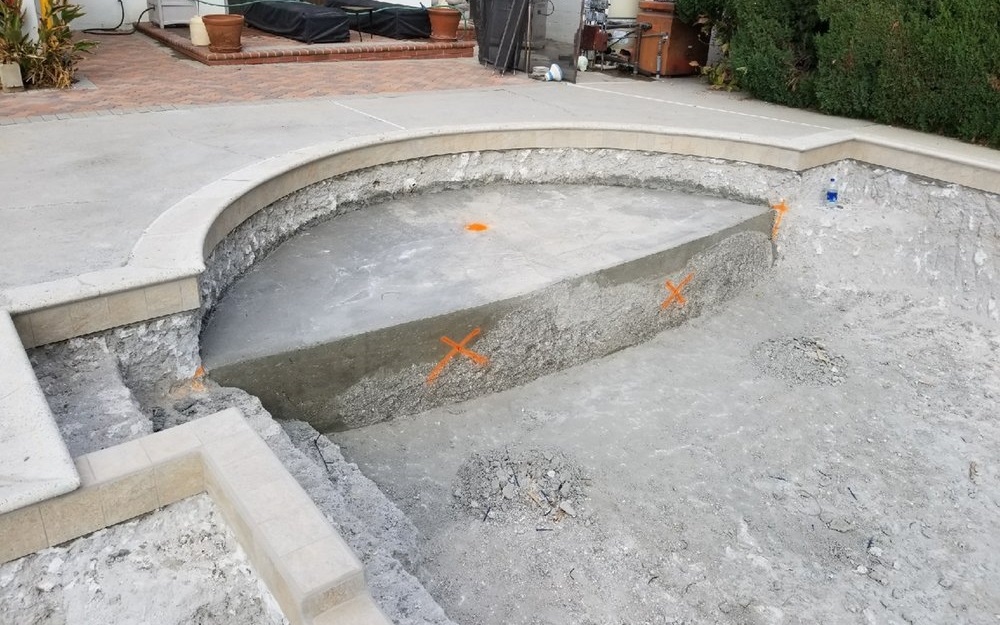 Services: Custom Design, Pool Heating System Installation, Pool Plastering, Pool Remodeling & Renovation
Project Duration: 1-2 months
Remodel with Baja Step in Northridge
Enjoy professional quality pool remodeling in Northridge when you sign up with our services. Here, at Valley Pool Plaster, we provide pool remodeling services that can add features to your backyard pool. In this project, we carried out a remodeling project in Northridge for a customer who wanted a Baja step. We added this cool feature in the pool's shallow cove. This project lasted an average of one to two months including other remodeling projects spread over this two-month undertaking.
Benefits of a Baja Step
Not all pools are made equal, some are made for fun with water slides and similar amenities while others are made for practical purposes like water therapy. However, a select few are made for the sole purpose of rest and relaxation. If you want a pool that as beautiful to look at as it is to lounge in, boy, are Baja steps for you! Here are a few benefits of adding Baja steps to your backyard pool.
Best for relaxation
A place to set pool furniture
Improves your pool's aesthetic value
First, Baja steps are made for rest and relaxation. Whether you've got pool furniture on it or not, Baja steps provide you with a shallow are to just simply just lie down the water without having to completely submerge your body into the pool water. You can pop a bottle of wine or just open up a can of beer, lie with half your body resting in the water with your arms spread around the coping. This pool feature was popularized by high-end hotel pools, Baja steps are the embodiment of a pool made for both physical and mental repose. Make your pool a place of Zen with Baja steps from Valley Pool Plaster.
Next, Baja steps offer a place to set your pool furniture. These types of pools have deeper Baja steps that allow you to set pool furniture with matching patio umbrella to help shade you from the sun. That bottle of wine and can of beer we were talking about earlier, can be replaced with a book or a gadget that allows you to do more while soaking up on your pool.
Lastly, a Baja step can significantly improve your pool's aesthetic beauty. While most Baja steps are designed rectangularly, others do come in various shapes, depths, and sizes. This means that you can fully customize your pool not only with how the Baja steps look but also with how it functions. Other pool owners line their Baja steps with the same interior they have on their pool while others use a different finish to make their Baja step stand out.
Ultimately, installing a Baja step in your pool can add value and purpose to your backyard oasis.
Valley Pool Plaster Best in Pool Remodeling
If you need help with remodeling your pool, trust only the experts. We, at Valley Pool Plaster, offer professional quality pool remodeling including the installation of Baja steps. We'll help you customize your pool the way you want it, get superior pool services only with Valley Pool Plaster!
Learn more about our pool remodeling in Northridge.