Mini Pebble & Tile in Agoura Hills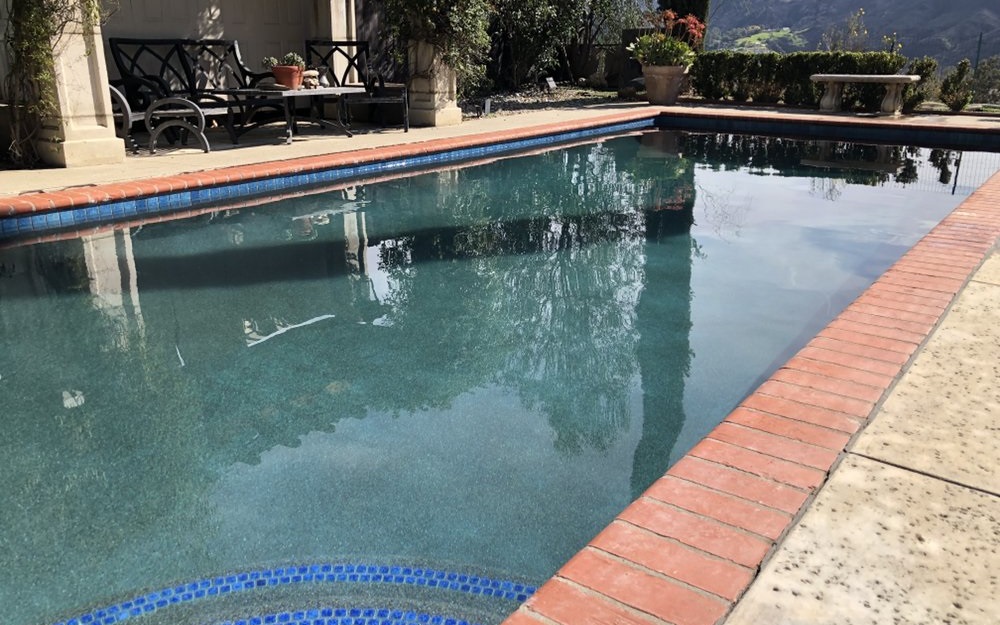 Services:
Inground Pool Cleaning, Pool Plastering, Pool Remodeling & Renovation, Recurring Services
Project Duration: 2-4 weeks
Mini Pebble & Tile in Agoura Hills
A two to four-week undertaking, this mini pebble and tile project near Malibu shows why we offer the best pool resurfacing in Agoura Hills. In this project, we new mini pebble pool finish paired with beautiful waterline tiles to give this residential pool a design befitting of its panoramic backyard. We resurfaced the pool to remove most of its old finish and give the new mini pebble better adhesion. The finished project was as picturesque and as stunning as the mountain view from afar.
Benefits of Mini Pebbles
Using mini pebbles has become increasingly popular over the years. Compared to using standard pool pebble, mini pebbles offer a slew of advantages. These advantages include a smoother finish with decent traction, a sharper look, and tons of customization options. We, at Valley Pool Plaster, are experts in mini pebble. If you want to know why we're the go-to for many pool owners in Agoura Hills, here are a few things that set us, and our services apart.
We use the chip out method
We use products from trusted brands
Product is applied by hand and by skilled artisans
There are a lot of pool contractors that offer pool resurfacing services. However, we use only the most recommended method of removing the old plaster to ensure best results. The National Plasterers Council (NPC), recommends using the chip out method. This process involves using power tools like jackhammers as well as basic hand tools like hammers and chisels to remove the old pool interior. This process allows us to remove most of the old finish, which gives the new mini pebble better adhesion. That said, the applied finish will not peel off or crack easily because it is fixed and is united with the exposed concrete instead of the old and weak finish. Although the chip out method may be more expensive than other means of removing the old interior, it does promise the best results.
We almost exclusively use products from NPT. Their line of pool products offers the same level of quality as those from more expensive brands like Pebble Tec. Our most popular finish is the Stonescapes mini pebble that provides a beautiful and durable finish to your in-ground concrete pools.
Lastly, these projects are carried out by expert individuals that are bonded, licensed, and insured. They are recognized by the manufacturer, which means that NPT will honor their warranty, which also helps us stand by our projects. Because they are experienced and adept pool artisans, we can guarantee their workmanship especially because our mini pebbles are applied almost entirely by hand. Because it is essentially handmade, your pool will have a unique and distinct look and an expensive handmade feel.
Whether you're going for a minimalistic modern pool or one that's warm and rustic, Valley Pool Plaster offers the best mini pebble services in Agoura Hills and its neighboring cities.
Valley Pool Plaster Best in Mini Pebbles
We take pool remodeling and pool resurfacing seriously. It has been our goal as a company to earn our customer's trust every step of the way. It's a word we live by every day and we're happy that our customers see this in every project we carry out. We offer professional services even if this means pointing you in the other direction. We genuinely love what we do and providing the best pool service is our passion. Contact Valley Pool Plaster today to find out your options in pool resurfacing with mini pebbles.
Learn more about our pool resurfacing in Agoura Hills.