Mini Pebble & Faux Rocks in Newbury Park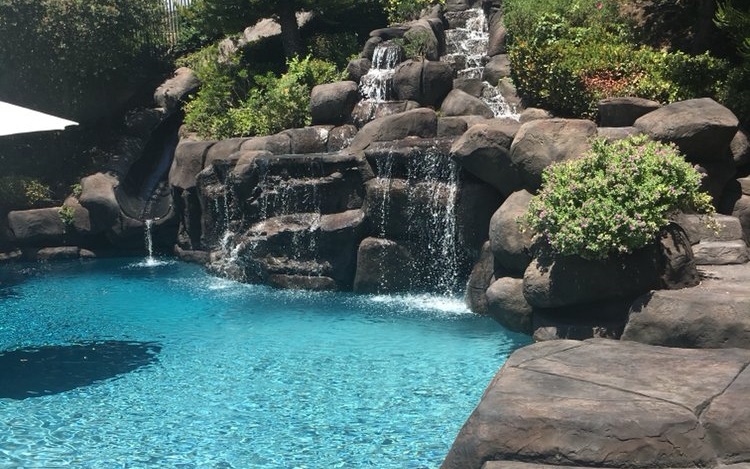 Services: Custom Design, Inground Pool Cleaning, Pool Plastering, Pool Remodeling & Renovation
Project Duration: 1-2 months
Green Cleanup in Calabasas
Get the best pool remodeling in Newbury Park with Valley Pool Plaster. As pool professionals, we've been commissioned to do all kinds of remodeling projects, from customized modern pools to ones that are designed with a calming natural landscape, we have done it all. In this project, we've helped the pool owner resurface the pool with mini pebble that match the beautiful faux rocks that line the landscaped property. It only took us one to two months to accomplish this project which includes custom pool design and pool resurfacing.
Benefits of Pool Remodeling
While some pool owners may see pool remodeling as a means of updating a pool's aesthetic value, others see it as an opportunity to bolster their investment and improve its overall value by using the best materials in the industry. After all, investing in your home is not a bad idea. If you're still on the fence about having your pool remodeled, here are some practical benefits to pool remodeling.
It prevents expensive repairs
It increases the value of your home
It allows you to enjoy your investment more
It's true, spending money on pool remodeling projects helps save you money by preventing expensive repairs. How? It's common for pool contractors to check the pool for structural damages before a remodel project. This way, pool owners treat pool remodeling as some sort of preventive maintenance that allows them to nip arising issues in the bud and address them before the problem becomes too expensive to solve. These include hairline cracks, noisy pool equipment, and so on.
Pool remodeling can also increase the value of your home. Should the time come that you need to sell your property, a pool lined with beautiful pebbles and tiles will have more value than one with dirty plaster. Your pool will sell for more money if you invest in better pool products. As seen in this project, the homeowner had a landscaped property and the aesthetic quality of the pool falls perfectly in place. We used mini pebbles from NPT that perfectly reflected and mirrored the faux stones in the pool's background.
Lastly, pool remodeling allows you to enjoy some sort of gratification knowing that your pool is in its pristine condition. Pretty much like driving a well-oiled performance vehicle, a beautifully remodeled pool can make you happy inside and out.
Whether you're going for a simple pool remodel or one built to be the envy of the block, these types of projects are all beneficial for the pool and the pool owner.
Valley Pool Plaster Best in Pool Remodeling
Nobody does pool remodeling like we do. Ours is the perfect recipe for pool remodeling by using tried and tested methods coupled with the best materials the industry has to offer. Each remodeling project is carried out by professional individuals that know exactly what they need to do to provide our customers with the best results. For pool remodeling that does not disappoint, contact only Valley Pool Plaster.
Learn more about our pool remodeling in Newbury Park.