A new pool installation will enhance the appeal of your residential or commercial establishment. However, when your existing pool begins to look old or worn out, it can actually detract from the overall appearance of your property. With the services of a Westlake Village Pool Remodeling company, you will be able to spruce your aging pool with brand new features. From pool painting to pool plastering and many more, there are many different services that you can use to breathe new life into your pool space. Read on for a look at what you need to know about pool remodeling.
How to Know When it's Time to Renovate Your Swimming Pool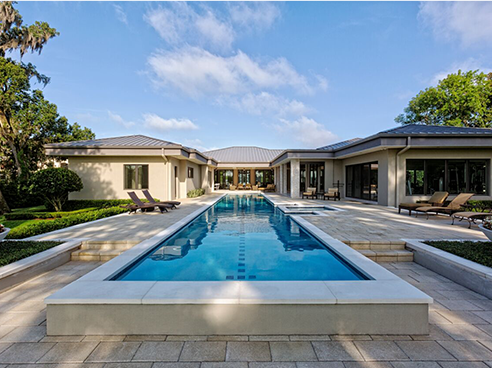 Leaks
Leaks in pools often happen around the skimmer – sometimes even cracking the skimmer itself. On vinyl pools, screws, faceplates and gaskets should be inspected for rust and damage. Leaking skimmers can occur if you reside in an area where the ground is known to shift from thaws/ seasonal freeze, or other forms of ground movement. It is possible to patch a skimmer for small leaks, but if you have to replace the skimmer, ensure you hire an experienced pool remodeling company. Professionals will do the job with minimal damage to the repair area and complete the project by matching the repair to look as cosmetically as it did before.
Lack of Efficiency
If your pool is anywhere from a decade or older, then it can likely do with a good overhaul in terms of increasing energy efficiency. Pools can be incredibly intensive in terms of resources. They take a lot of water and electricity to keep the pumps running and the heat going on. By enhancing energy efficiency by including a pool cover, adding a new friendly heating system and changing the pumps, you will be saving a lot on your energy bills.
Adding New Features
The world of pool technology has advanced significantly in the past years. If your pool is older, you will be amazed at what you can add to your pool today to make it more enjoyable. Adding new custom features is one of the top reasons why most people decide to remodel their pool.
New Life
Remodeling your pool could the motivation that you need to use your outdoor spaces more often. Invite your family and friends to have a great time.
Your Plastering is Unsatisfactory
If your pool plastering has begun to look tired, or if your tastes have changed, then you should consider renovating it. A new pool surface can make all the difference to the appearance of your yard. Westlake Village Pool Remodeling experts carry a large variety of updated finishes, like pebble and quartz, which can give your pool a fresh new look and feel.
How to Plan a Pool Remodeling Project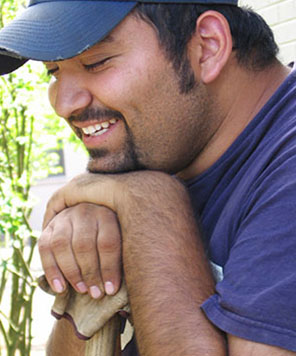 Good planning shapes good decisions and the right decisions can help make your pool remodeling dreams come true. A pool is a significant investment, after all, so your remodel will want to find ways to add both value and utility to the final product. By approaching the matter in this way, you avoid committing oversights or making impulse decisions that can negatively affect the outcome of your project. To help you go about planning your Westlake Village Pool Remodel while avoiding setbacks, follow these steps in order:
Step 1: Determine Your Needs and Wants
The initial step to planning a pool remodeling project is to assess your needs and wants. Ignore actual features for the moment and instead concentrate on the functionality you want to add. Functionality should always come first before aesthetics. Determine what you want to do with the pool that you are unable at the moment. In addition, consider accessibility features that will enable you to continue using your pool as you age and encounter mobility limitations. Lastly, consider the long-term maintenance needs of your pool, that is, materials that should be replace before they wear out.
Step 2: Research on the Latest Pool Trends, Updates and Technology
Research on the most recent pool trends, updates and technology that can make it pool ownership more enjoyable. Salt water generators, for example, help to maintain water quality and sanitation without nearly as many chemicals.
Step 3: Research Other Pools for Inspiration
Take time to search the internet for completed pool projects to see what ideas have come up. There are lots of websites that have a dazzling array of project photos that include features, deck designs, landscaping and many more. Even if the pool project as whole is not quite within your intended scope, you can steal one or two ideas from it to enhance your initial vision.
Step 4: Set a Budget
Always set a budget before you start choosing features. By setting a budget first, you are able to choose features that within you financial plan. Determine how much you are willing to set aside for the project. Remember to include 5 to 10 percent contingency fund in case anything goes over the budget.
Step 5: Create a List of the Exact Features or Renovations You Need
With the all the research you have, you hopefully have more specific ideas about what your remodel will entail. Create a list of the required materials, project goals and any other factors that will be important to your remodel. In addition, create a paragraph form description to accompany your list to get a fuller picture of what the end-product will look like. If possible, consider creating rough sketches of the final product.
Step 6: Choose the Right Pool Remodelers
Select the right Westlake Village Pool Remodeling contractor is a lengthy process unto itself, but remember these steps to hit all the essentials: Start with family and friends referrals. Look up the contractor reviews online. Interview all the candidates and confirm certifications and credentials. Ask the contractors to refer you to at least three of their last customers or the jobs they have done. Solicit multiple bids that include projected estimates and schedules. Choose the contractor who provides the most value, not just the best price.
The Process of Pool Remodeling
Stage 1: Preparation
Before the pool remodeling contractor arrives, switch off breakers to pool equipment and lights. Move potted plants, furniture and any movable items out of the way. Close your windows to reduce dust and noise. Remember to keep pets inside.
Stage 2: Demolition Phase
Before resurfacing your pool and beginning any additional construction, your pool will be drained and existing surfaced prepared. If your pool is not already empty, the contractor will drain it into your outside sewer drain. If there is no sewer drain available, you will responsible for the disposal of the water. Note that once your pool is drained, you should not turn on your pool lights. This will burn out bulbs and may even break the lens.
After draining the pool, the pool contractor will prepare the interior surface for proper bonding with the new surface by chipping out or bond coating the old surface. The chipping out entails removing all the old plaster using power pools. Bond coating combines chipping out the top portion of the plaster and then power washing the remaining surface with a super high speed jet spray.
Stage 3: Plumbing Phase (Outside Pool)
The best of protecting a new pool finish is replacing the existing plumbing and installing an energy efficient filtration system. This installation is done once the demolition is completed. Depending on the scope of work, new equipment is installed after the decking or plaster is applied.
Stage 4: Construction Phase
After the demolition phases, there is an intermediate stage during which your new coping and tiles are expertly put into place. The replacement of coping and tiles is done after the installation of plumbing and new equipment, but before the decking is redone. This intermediate stage takes place before the outside pool work is completed and before starting the inside pool phase.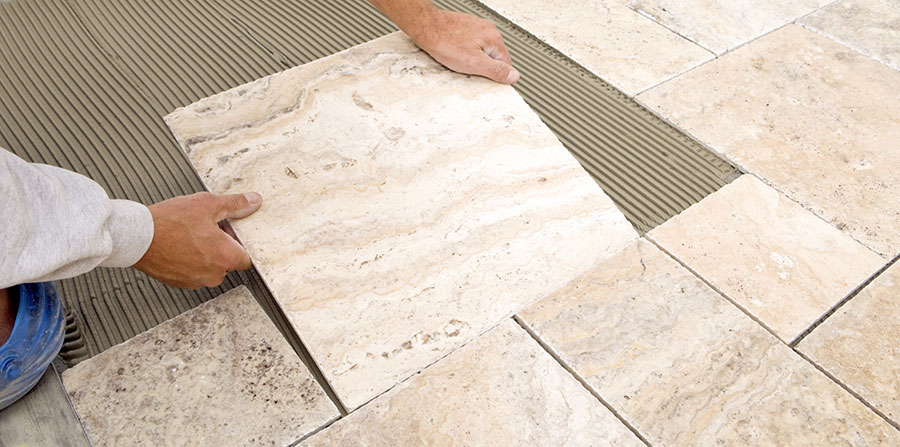 There are many option of swimming pool and spa coping you can choose from. Westlake Village Pool Remodeling Contractors can install concrete coping, flagstone, safety grip brick, bull nose brick, standard white safety grip and many more.
Renovating the Outside of the Pool
· Waterfalls and Boulders
Instead of walking into your backyard, imagine stepping into your own personal resort. If you want to transform the space around your pool into an entertaining and exciting hot spot by adding some natural boulders, a tranquil waterfall and a built-in fireplace or barbeque.
· Decking Renovation
Decking renovation is done after the intermediate phase of coping and tile replacement. The best time to replace the decking is in tandem with a new pool finish. Old pool decking can be replaced with some elegant textured pavers or concrete, with an elegant added color.
Renovating the Inside of the Pool
Unlike old outdated pools, your newly renovated swimming pool can be resurfaced using modern materials that are not only beautiful and colorful, but also beautiful as well. The two common modern resurfacing materials are pebble and quartz. Here is how these exquisite materials are applied. The pebble or quartz are mixed into the plaster at the truck. The components are fed under pressure via a hose to your pool, where the mixture is shot or sprayed onto the interior surface. The new plaster is then set and smoothed using hand trowels.
Stage 5: Turning Your Pool Back Over to Your Care
Once the renovation is done, fill the pool with water. Avoid using a fill line or auto fill to fill. Ensure the water source is connected to a softener. Once the pool is full, brush and remove any plugs. At this time, you may start your filtration system at this time. Your Westlake Village Pool Remodeling contractor will also do a final clean up.
When is the Right Time to Remodel?
A pool remodel can cause headaches and frustrations when not done correctly or planned accordingly. Thus, before hiring a Westlake Pool Remodeling company, you must know when the perfect timing is. So, when is the right time for a pool remodel project? Experts recommend having a pool remodel done during winter or autumn. This is because summer and spring are the usual period of time that most people love the idea of swimming. It is the time when most people want their pools ready for splashing and diving. Pool companies are more occupied during spring and summer, thus it is possible to get a good deal during autumn or winter.
Top Benefits of Pool Remodeling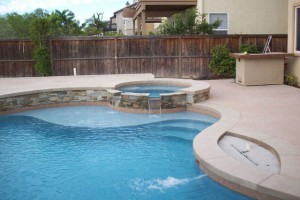 Enhanced Pool Safety
During a remodeling project, you can make your pool as safe as possible by installing a fence around it to keep out unwanted guests, or installing non-slick pavers to reduce slipping hazard. Of course, you will feel secured to swim when you know in yourself that everything around your pool functions well because it is new and updated.
Save Money
Installing a new swimming pool is a costly investment. However, doing a renovation can be much cheaper, considering you are just fixing or replacing what you already have. By doing so, you are reducing the cost of future pool maintenance.
Increase the Lifetime of Your Pool
Another great benefit of remodeling is that it helps to extend the lifespan of your pool. The newly installed plumbing and equipment will ensure you enjoy your swimming longer.
Enhance the Appearance of Your Pool
A pool remodel is an excellent opportunity to update the appearance of your pool. Once you decide to remodel your pool, carefully choose materials and colors that correlate with the existing design elements on your property. For example, you can choose a pool perimeter tile that matches the trim of your home for a cohesive, elegant appearance.
Better Energy Efficiency
Old pools use old equipment. This includes electrical and plumbing equipment that keeps the filter running and the water clean. While these equipment still do the job, they consume more energy which may end up costing more money. Upgrading to new, modern pool equipment brings you the benefit of energy efficiency.
Remodeling your pool is among the most valuable investments that you can make. To ensure that the entire project is completed correctly, hire an experienced Westlake Village Pool Remodeling Company. Professional pool remodelers have adequate knowledge of the most recent remodeling ideas and have completed lots of remodeling projects.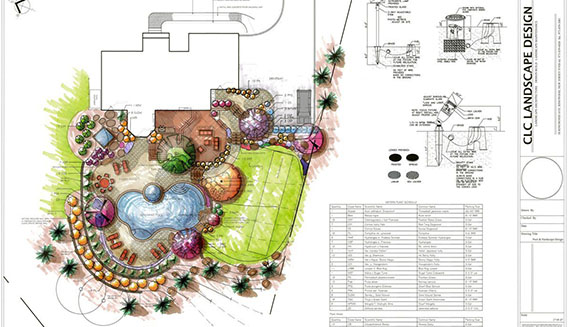 Design and Permits
To ensure that your expectations are met, we will provide you with detailed renderings of your design. This also allows you to make revisions and improvements as necessary before construction begins. Once you've approved your design, we create detailed engineering drawings and apply for the necessary permits for the swimming pool replastering.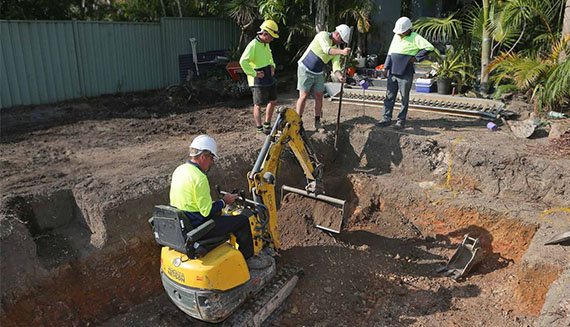 Layout and Excavation
This is the first step in the construction of your pool. We will take the dimensions of your pool and lay it out in your backyard. This is an opportunity for you to see the layout of the size and shape in case any last minute changes need to be made. After the layout, the real work begins. Special equipment will be used to excavate the grass and soil from your yard to make room for your new pool. This step usually takes just one or two days and the soil that is removed can either be removed or simply transferred to another area of the yard, according to your preference.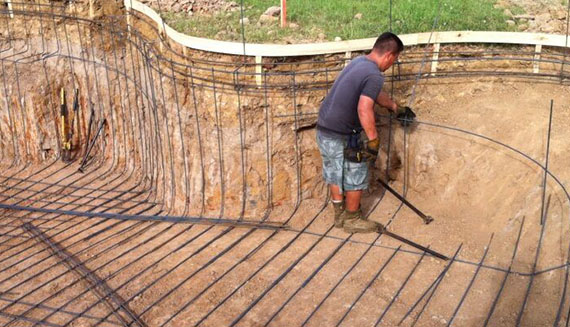 Steel Framework
After the excavation step, a steel crew will begin constructing the skeleton for your pool. This forms the shape and structure. The steel rods are placed all along the sides and bottom of the pool to provide structural integrity, making your pool tough and durable.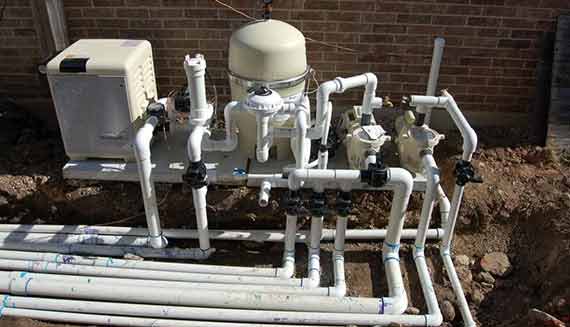 Plumbing, Electrical, and Equipment
Before adding cement, we first need to install all of the plumbing and electrical. We ensure that the plumbing is pressure tested and the electrical meets the necessary city and state codes. Correctly sized plumbing is essential to proper circulation and pump efficiency. While plumbing work is occurring, you will see the installation of utilities and the installation/ setting up of the equipment. This includes pumps, heaters, filters, and (optional) salt cells. Inspections will also be made by the swimming pool remodeling contractor to ensure everything is being completed correctly and the job is going smoothly.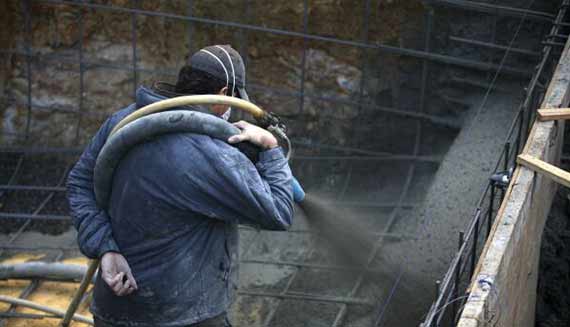 Gunite Application
An experienced team will apply the gunite (cement) to create the tough inner shell of your new pool. This concrete is a dry mix to which water is added onsite from a hose. The amount of water will be precisely controlled in order to guarantee the correct consistency. After this step, your pool will take approximately seven days to dry. During that time, it will need to be watered several times a day in order to prevent cracking while it dries.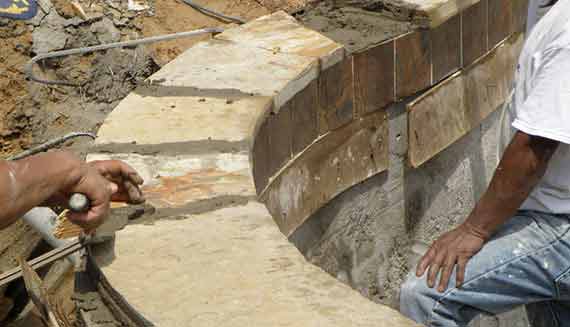 Tile and Coping
Now that all of the structure for the swimming pool remodeling has been formed, the decorative process can begin! Based on your taste and design, a wonderful selection is available, including natural stone tiles, slates, ceramics, and mosaics. Pool coping can be crafted from a variety of materials, such as natural stone, brick, or cement. After this step, your pool will be fairly close to completion!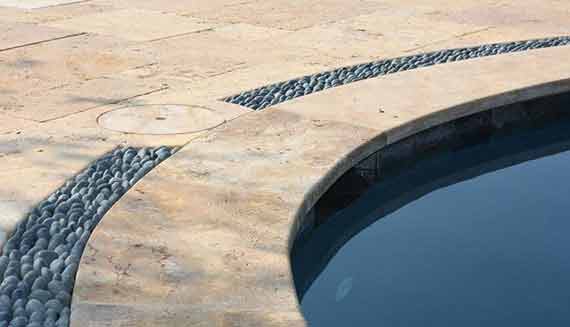 Decking
Decking is the surface that surrounds the perimeter of your pool. A variety of surfaces based on your design can be used here, like custom stone or stamped concrete. During this step, any features included in your design, such as outdoor fireplaces, firepits, fountains, and kitchens will be installed.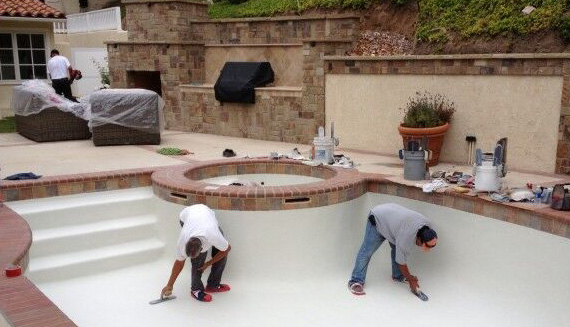 Plaster and Start-up
Applying the plaster is a complex process that must be done meticulously to ensure that your pool has a beautiful, long-lasting finish. After plaster is completely applied, the pool is filled with water. Depending on how large your pool is, filling with water usually takes a day or two. In order to eliminate plaster dust, it will need to be brushed at least once a day. Once the material has cured, a technician can perform a "start-up," which involves adjusting the chemicals in your new pool.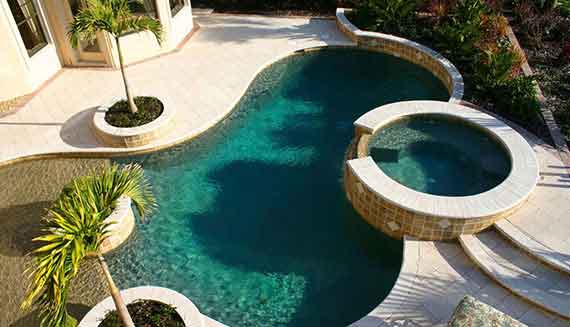 Finished Project
Your swimming pool remodel is complete! Please let us know if there's anything you feel we've missed or anything you still need. Good communication is our highest priority, so that you feel satisfied and excited about your new pool.