One stop solution for Pool Building
Are you looking for a custom pool builder?
It is a huge investment, so you need to make sure that you get the best around. At Valley Pool Plaster we have many years of experience and knowledge to transform your vision into reality by converting your outdoor space into an ideal backyard.
Being one of the most experienced pool builders in the Conejo Valley, we have constructed swimming pools for several homes, condos and even businesses. We specialize in building and remodeling swimming pools to the exact specifications you wanted.
Our professionals can make suggestions what will work best for indoor and outdoor pools, spas, and saunas. Valley Pool Plaster gives a competitive edge to your specific needs. We can also repair, renovate, or upgrade your existing swimming pools and spa.
We believe in complete client satisfaction and we walk an extra mile to make our clients happy.
Being a full service pool building company, we design and construct the best swimming pools you and your family can enjoy. We are here to meet all your pool building needs.
You can be assured that they would be getting the best pool builders when you work with from Valley Pool Plaster. Give us a shout if you want to get advice on pool building at the comfort of your home. We would be glad to assist you.
Our focus areas in Los Angeles and Ventura Counties such as Newbury Park, Thousand Oaks, Westlake Village, Oak Park, Agoura, Calabasas, Malibu and Hidden Hills.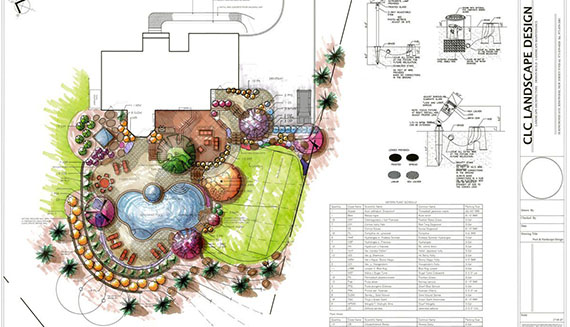 Design and Permits
To ensure that your expectations are met, we will provide you with detailed renderings of your design. This also allows you to make revisions and improvements as necessary before construction begins. Once you've approved your design, we create detailed engineering drawings and apply for the necessary permits for the swimming pool replastering.
Layout and Excavation
This is the first step in the construction of your pool. We will take the dimensions of your pool and lay it out in your backyard. This is an opportunity for you to see the layout of the size and shape in case any last minute changes need to be made. After the layout, the real work begins. Special equipment will be used to excavate the grass and soil from your yard to make room for your new pool. This step usually takes just one or two days and the soil that is removed can either be removed or simply transferred to another area of the yard, according to your preference.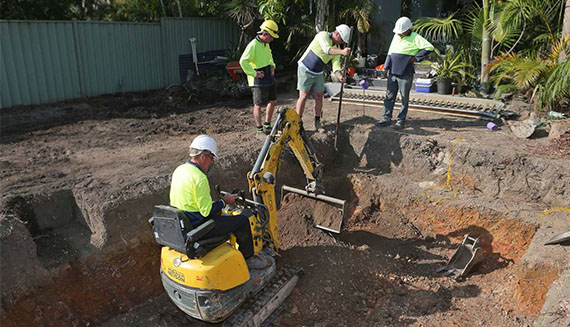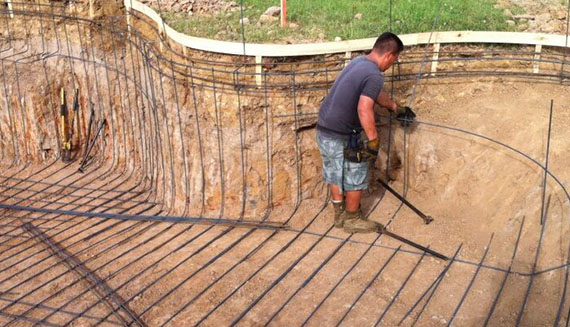 Steel Framework
After the excavation step, a steel crew will begin constructing the skeleton for your pool. This forms the shape and structure. The steel rods are placed all along the sides and bottom of the pool to provide structural integrity, making your pool tough and durable.
Plumbing, Electrical, and Equipment
Before adding cement, we first need to install all of the plumbing and electrical. We ensure that the plumbing is pressure tested and the electrical meets the necessary city and state codes. Correctly sized plumbing is essential to proper circulation and pump efficiency. While plumbing work is occurring, you will see the installation of utilities and the installation/ setting up of the equipment. This includes pumps, heaters, filters, and (optional) salt cells. Inspections will also be made by the swimming pool remodeling contractor to ensure everything is being completed correctly and the job is going smoothly.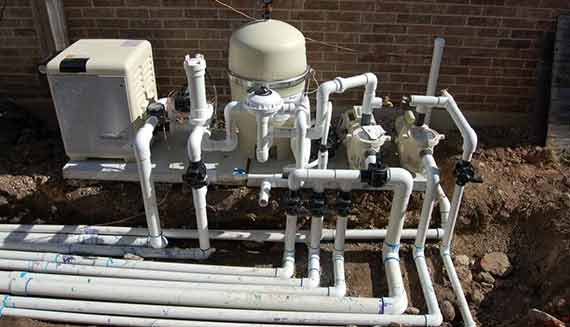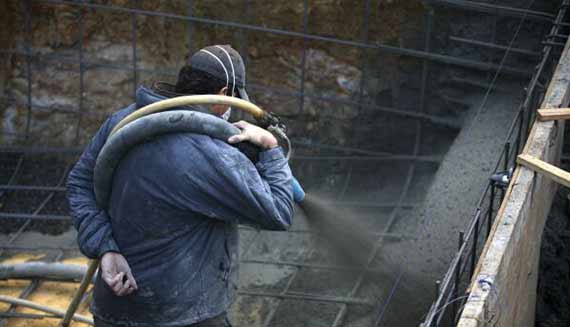 Gunite Application
An experienced team will apply the gunite (cement) to create the tough inner shell of your new pool. This concrete is a dry mix to which water is added onsite from a hose. The amount of water will be precisely controlled in order to guarantee the correct consistency. After this step, your pool will take approximately seven days to dry. During that time, it will need to be watered several times a day in order to prevent cracking while it dries.
Tile and Coping
Now that all of the structure for the swimming pool remodeling has been formed, the decorative process can begin! Based on your taste and design, a wonderful selection is available, including natural stone tiles, slates, ceramics, and mosaics. Pool coping can be crafted from a variety of materials, such as natural stone, brick, or cement. After this step, your pool will be fairly close to completion!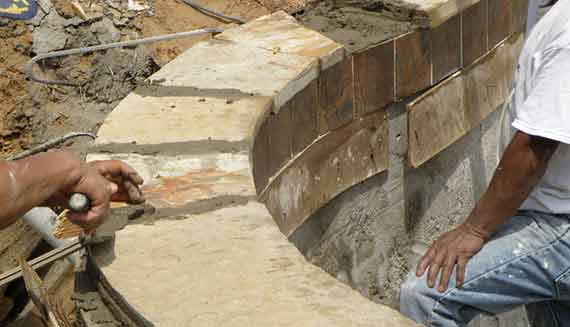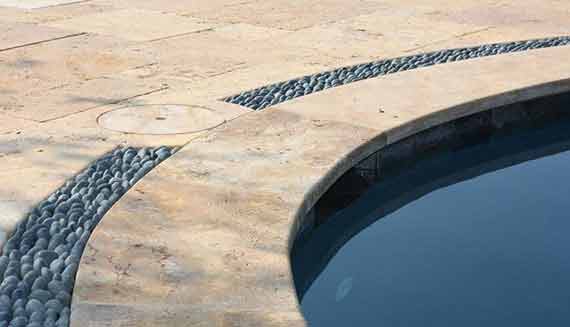 Decking
Decking is the surface that surrounds the perimeter of your pool. A variety of surfaces based on your design can be used here, like custom stone or stamped concrete. During this step, any features included in your design, such as outdoor fireplaces, firepits, fountains, and kitchens will be installed.
Plaster and Start-up
Applying the plaster is a complex process that must be done meticulously to ensure that your pool has a beautiful, long-lasting finish. After plaster is completely applied, the pool is filled with water. Depending on how large your pool is, filling with water usually takes a day or two. In order to eliminate plaster dust, it will need to be brushed at least once a day. Once the material has cured, a technician can perform a "start-up," which involves adjusting the chemicals in your new pool.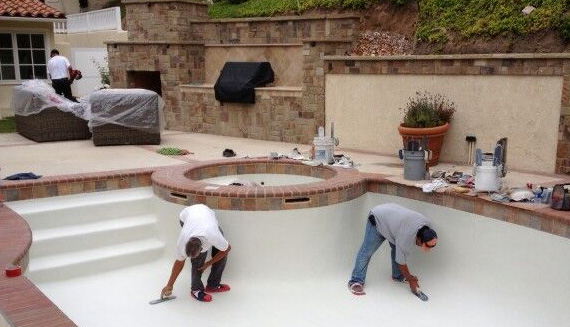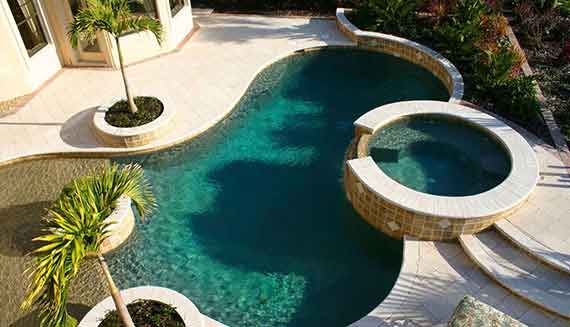 Finished Project
Your swimming pool remodel is complete! Please let us know if there's anything you feel we've missed or anything you still need. Good communication is our highest priority, so that you feel satisfied and excited about your new pool.